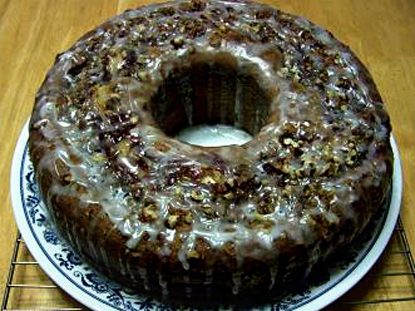 Difficulty: Easy
Servings: 16
Prep Time:
about 10 min
Cook Time:
55 min
Ingredients
1 stick butter, melted
1 cup sugar
2 eggs
1 tsp. almond flavor
2 cups flour
1 tsp. baking powder
1 tsp. baking soda
1/2 tsp. salt
1/2 pint sour cream (8 oz.)
1 can whole cranberry sauce (or your own homemade)
1/2 cup chopped walnuts or pecans (optional)
Topping:
3/4 cup confectioners sugar
2 Tbsp. warm water
1/2 tsp. almond flavor
Directions
Melt margarine. Add sugar, almond flavor, and eggs; beat. Mix dry ingredients, add and stir in, alternating with sour cream. Spread half the batter in a well greased and floured tube or spring form pan. Spread with half the cranberry sauce, the rest of the batter, and top with the remaining cranberry sauce. Sprinkle with half a cup chopped walnuts if desired.
Bake at 350 for 55 minutes. Cool in pan for 5 minutes. Remove from pan. Stir topping ingredients together and drizzle over cake.
Categories: Breakfast, Cakes, Desserts, Entertaining, Holiday, Other Breakfast, Potluck
Tags: Christmas, Thanksgiving
Submitted by: brookdale on December 24, 2010