Do you cringe every time you use plastic wrap, foil, or parchment baking paper knowing after one use it will go in the trash? Have you tried the more durable counterparts only to find those substitutes don't work as well as the disposable they replaced, or that they are hard to find and/or expensive? I have found an alternative that lies somewhere between disposable and durable, and yes, that even includes clingy, grippy, aggravating plastic wrap!
Everything from Tupperware to Rubbermaid to store-brand plastic containers can keep one from using too much plastic wrap. But there's one job for which I've yet to find a suitable alternative, and that's to cover proofing dough. Whenever I've used the suggestion to cover the dough with tea towels, the fabric sticks to the dough no matter how much I butter or oil the dough. The towel also doesn't retain heat to encourage the rising like I like.
I tried using plastic storage containers, large enough to put in a cookie sheet of rolls or multiple loaves of bread, but the containers are unwieldy in tight kitchens, and still the dough seems to form a slight crust, thus halting the rising process. So how could I re-use plastic wrap for this job? I found out accidentally one busy weekend making up tray after tray of my mashed potato rolls for a potluck supper.
I rotated the plastic between sets of cookie sheets, raising 2 pans of rolls at a time. I'd take the plastic off the set of rolls ready to go into the oven, and put it on another set of rolls ready to rise. The more I used the plastic, the more covered with oil and butter it became.  Soon it wasn't sticking to itself, and I was able to carefully fold the sheet, and put it in a Ziplock bag to keep in the fridge until I made bread again.  I used that plastic weekly for 2 months before I needed to replace it.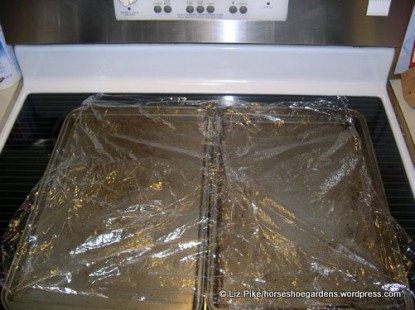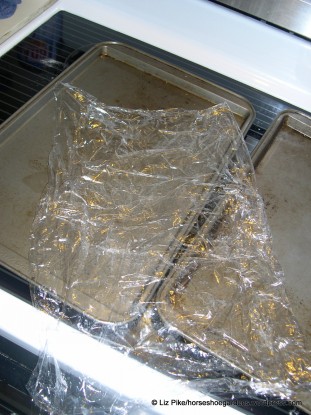 That got me to thinking about how I could re-use my parchment and foil. The parchment doesn't last as long. It tends to get brown and brittle, but I've found I can get 2-5 uses out of it before it needs replacing. If I've put something like garlic butter or poppy seeds on the previous dough I don't use it for cookies or something else where the flavors might linger and clash. I wipe off the parchment, fold it loosely, and put it in it's own Ziploc bag in the fridge.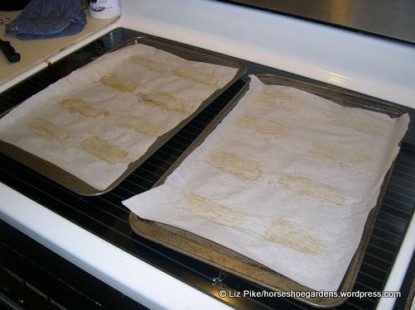 (Note to self: time to make more of Suzanne's Pepperoni Rolls ;))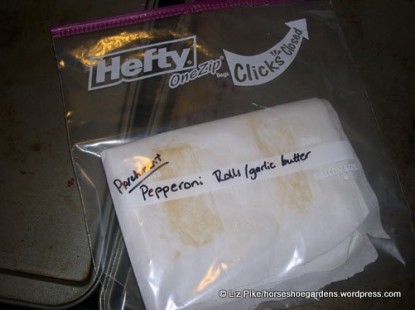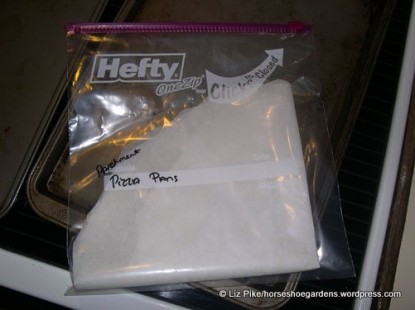 Lastly, foil.  Foil is it's own animal as it is often used to cover things like meat or cheese that make it hard to clean without tearing it. However, I've found if I use deeper dishes or tent the foil slightly on top, the food doesn't touch the foil and I can re-use it without too much cleaning. Some of this foil I'm using a year later.
I've got specific pieces of foil for specific dishes that didn't come with their own covers.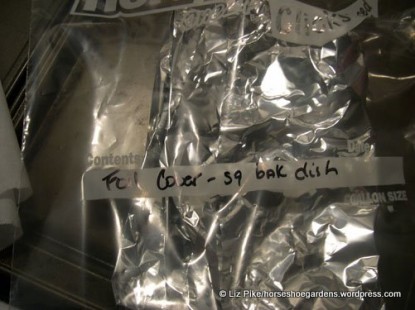 The better quality product you start with, the easier it will be to re-use and the longer it will last, especially heavy duty foil. The Ziploc bags easily fit in a crowded fridge since they are flat and can take some smooshing.
This may seem a small thing to those not having to budget as tightly as others. But even if my purse strings were looser, I like doing this for the environment, and I like having one less thing to keep on my grocery list (and one less thing to forget to buy while I'm there!), one less thing to carry in the house, and one less thing to jam into non-existent storage. And just in case you might think I'm weird or something, you won't find paper towels hanging on my clothesline, but I am weird. Just saying…
Disclaimer: This does not pertain to She-Who-Must-Not-Be-Named who has a foil addiction. Amen.


Liz Pike blogs at Horseshoe Gardens.

Do you have a recipe post or kitchen-related story to share on the Farm Bell blog?
See Farm Bell Blog Submissions for information, the latest blog contributor giveaway, and to submit a post.

Want to subscribe to the Farm Bell blog? Go here.
What can you enter to win this month? Click here.