Yum.
This past weekend, we had a houseful of teenagers.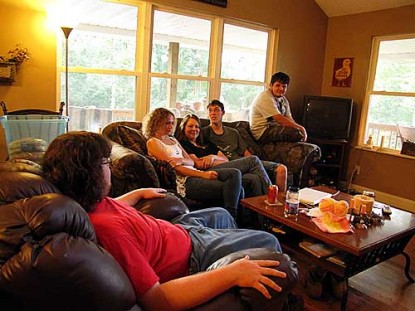 Weston and my cousin's son, Madison, are good friends and they all share the same set of friends.
Madison, with his girlfriend.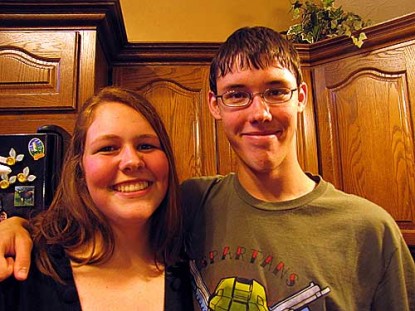 Madison is getting ready to head off to college (West Virginia University), so together with my cousin's wife, Sheryl, we threw the teenagers a party.
There was a lot of eating, talking, laughing, more eating, and playing around.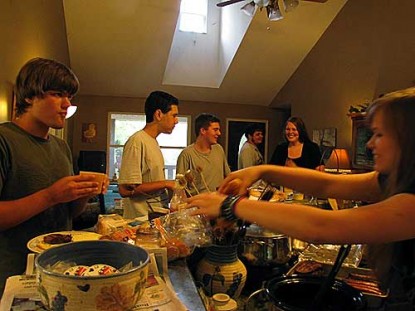 The party was here, at our farm, and they had to visit the new babies, too.
Weston, with his girlfriend.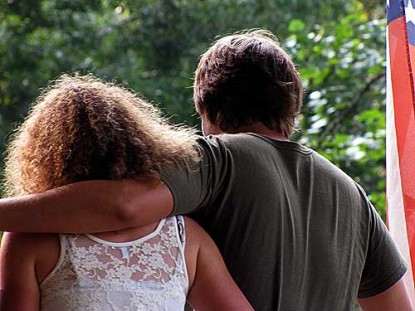 Teenage friend, pondering the shock that his cell phone has no service at our farm.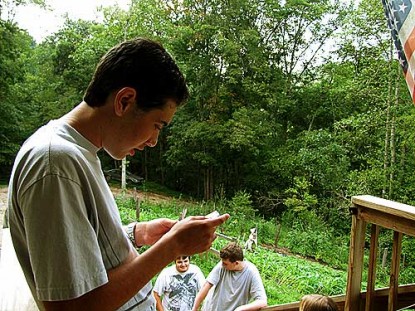 We had hot dogs and hamburgers on the grill. Weston's girlfriend is a vegan and she brought these vegan bean balls.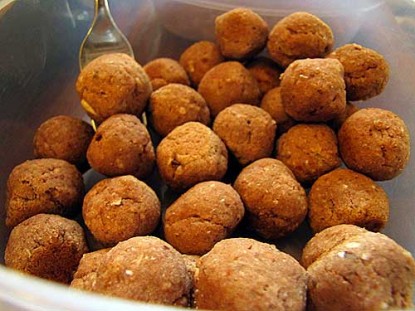 They were spicy and delicious and fascinating. Her mother made them and she didn't have the recipe, but she told me what she could about them, and I made up my own recipe. These bean balls can be baked or fried, and I tried them out as patties, too. You can serve the bean balls as snacks with any kind of dipping sauce you like (Weston's girlfriend said she likes them with ketchup). You can also use them as meatball substitutes for meatball pizza, meatball sandwiches, spaghetti and meatballs, or any other way you might use meatballs in a recipe–or make them up as patties and have burgers!
I made this recipe vegan, but if you're not worried about that, you can add an egg to the mixture as an added binder.
How to make Spicy Bean Balls (and Burgers!):
3 cups cooked and drained pinto (or other) beans
1 cup finely chopped peppers (or other vegetables)
1/2 cup bread crumbs
1-2 teaspoons garlic salt
1-2 teaspoons chili powder
1-2 teaspoons crushed red pepper flakes
1-2 teaspoons dried onion
1 teaspoon olive oil
Note: You can make these more, or less, spicy. Taste-test as you add the seasonings and make it to suit yourself.
Mash beans. Combine all the ingredients in a bowl (or in the pot you used to cook the beans).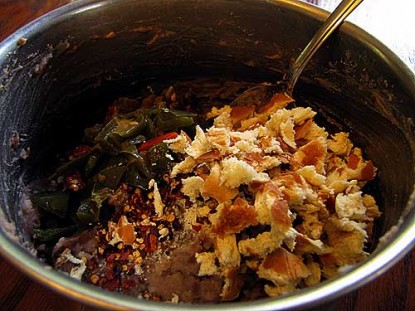 Place spoonfuls on a greased baking sheet–small spoonfuls for bean balls or large spoonfuls for bean patties. Shape as desired.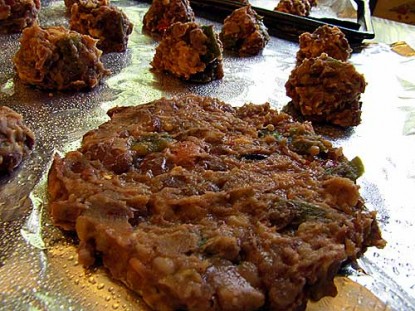 Fry in hot oil, turning to brown all sides, for bean balls, or fry patties, turning once, just enough to brown.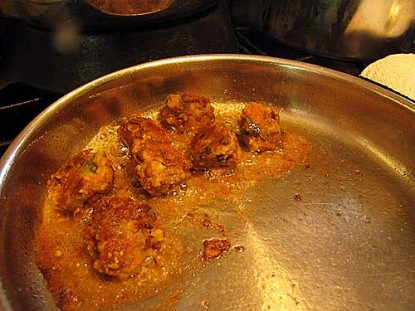 Drain on paper towels. Or, for baked bean balls or patties, bake at 375-degrees for 20 minutes. (Turn once for patties, to brown both sides. It's not necessary to turn for bean balls.)
Baked.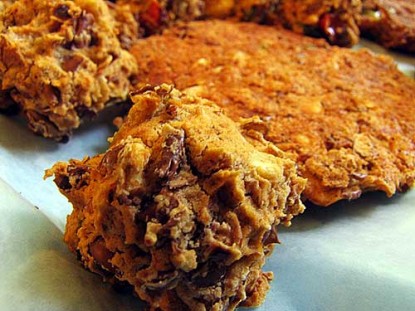 I've tried these both ways, baked and fried. It's no surprise that anything is better fried, but they are delicious baked as well. Baked bean balls and patties hold their shape better, but are more dry. Fried, they still hold their shape (you can pick them up in your hand), just not as firmly as when baked, but they are juicier.
Fried.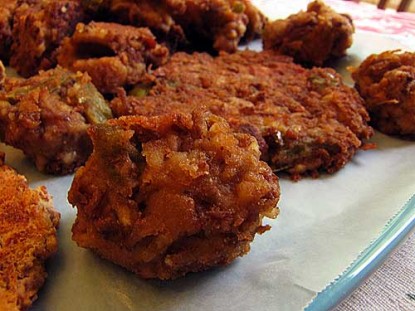 Bean balls and burgers–baked (left), fried (right).
Makes about 3 dozen bean balls or 6 burgers, depending on size.
I can't wait to try these out on the girlfriend!
Here's Bean Ball Pizza:
Obviously, that's not a vegan pizza, or even a vegetarian one! It's just crumbled/cut up bean balls used as a meat substitute. To make vegan pizza, leave off the pepperoni (need I point that out, LOL) and use soy cheese. The girlfriend wasn't here–I was just practicing, so that's how we ate it. After I inhaled half the bean balls with some Ranch dressing for the dipping sauce.
Find this recipe at Farm Bell Recipes for the handy print page and to save it to your recipe box:
Spicy Bean Balls (and Burgers!)
Interested in contributing a guest post to the Farm Bell blog? Read information here for Farm Bell blog submissions.

Want to subscribe to the Farm Bell blog? Go here.