Cooking with kids in the house is fun. Right as your hands are in the bread dough, things start happening. The baby cries. The toddler starts screaming "NO! Do not eat my baby doll!" to the dog. Before you know it, you can't hear yourself THINK, so forget trying to concentrate on kneading that dough! But there are moments–rare, but they do happen–when cooking with kids in the house is actually, well, enjoyable.
There was the time we made pizza and my daughter wanted to help. In the spirit of adventure, I let her have her own small pan. She got to oil it. Of course, she also oiled other things–her hair, face, shirt, and somehow her feet. Pressing out the dough was easy. Sauce… well, apparently sauce is just as messy as oil. The cheese was spread all in one spot, and the chicken and bacon barely left the center. With a little help from me, she "fixed" things up, and it was ready to bake.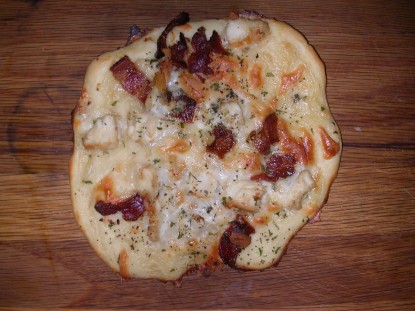 Making bread is her favorite thing to do. She is allowed to stir the flour, water, honey, salt, and yeast together. The spoon somehow always manages to fling dough everywhere. I think a huge plastic bubble would be a nice kitchen accessory.
A special break from my having to cook was her and Daddy making egg salad.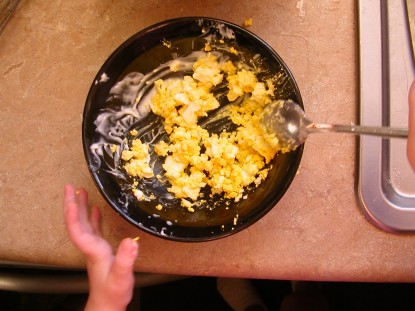 But Mommy had to clean up. Who knew how many little nooks and crannies there are where egg salad can hide?
There have been many other experiences along the way. Some more memorable than others…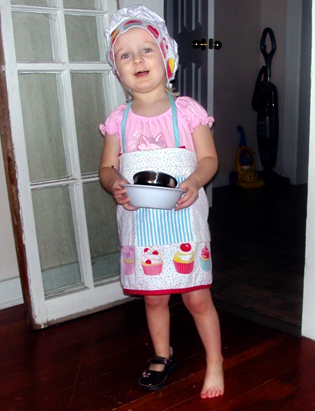 …but every time is a treasure to me.
Do I ever want to just forget about cooking? Yes, every time I clean up that extra mess that wouldn't be there if I had just done it myself. And every time World War III breaks out in a room miles away from the kitchen. Knowing that my children will be growing up in a home that always smells like delicious homemade food, seeing that smile on my daughter's face as she hears the words "You may help cook today," and taking pictures of her creations.
Suddenly, all the headache is worth it.



The Merry Anniversary Giveaway #4 is still open today!
Do you have a recipe post or kitchen-related story to share on the Farm Bell blog? See Farm Bell Blog Submissions for information and to submit a post.

Want to subscribe to the Farm Bell blog? Go here.