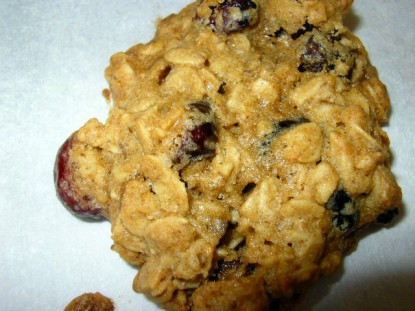 Difficulty: Easy
Cook Time:
15 min
Ingredients
3 c Oats
1 c GF flour (Store bought mixes or one of ours from older posts.)
1/2 tsp xanthan gum
1/2 tsp baking powder
1/2 tsp baking soda
1 tsp cinnamon
1-2 tsp ground flaxseed
1/2-1 tsp salt
3/4 c oil (we used olive oil )
1/2 c dark brown sugar
1/4 c sugar ( we used vanilla sugar )
2 large eggs
2 tsp vanilla
1 1/2 c raisins and or dried cranberries
Directions
Combine dry ingredients in bowl.
Beat sugars and oil, adding eggs, one at a time. Add vanilla, stir in raisins and dried cranberries.
Bake in 350 degree oven on a parchment paper covered cookie sheet for 15 minutes or until golden brown.
Categories: Cookies & Bars, Gluten-Free
Tags: Christmas Cookie
Submitted by: lala1 on December 20, 2010