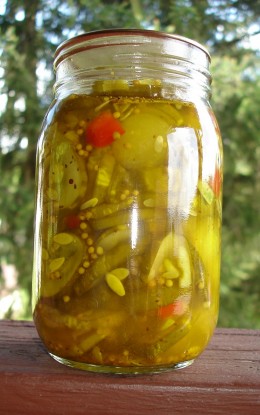 Difficulty: Easy
Servings: 7 or 8 pints.
Ingredients
Cucumbers – scrubbed & sliced – about 4 quarts
1 1/3 cups non-iodized salt
sliced onions (amount is your choice)
NOTE – in 2006, I started using frozen pearl onions –
what a hit they have been!
slivered red bell pepper (amount is your choice)
3 cloves garlic, sliced
5 cups sugar
3 cups white vinegar
1 Tbsp. turmeric
2 Tbsp. mustard seed
1 1/2 tsp. celery seed
1 tsp. alum
Pickle Crisp
Directions
I layer the vegetables in a one gallon glass jar, sprinkling on the salt as I go. However, this can also be done in a clean dishpan, stainless stockpot, etc.
Cover all with cold water, add a few ice cubes.
Refrigerate at least 5 hours or overnight.
Thoroughly rinse the vegetables in three changes of water.
Drain well. Set aside.
In large non-reactive pot combine the vinegar, sugar, and spices.
Bring vinegar mixture to a boil. Add drained & rinsed vegetables to pot all at once. Stir often for 2 or 3 minutes to heat the vegetables, but turn off heat if mixture approaches the boiling point.
Ladle hot mixture into hot pint jars, adding Pickle Crisp as per package directions for REALLY crisp pickles, wipe rims, cap.
Process in boiling water bath for 10 minutes.
* I now use the 30 minute low-temperature pasteurization treatment. Maintain water bath between 180 and 185 degrees for 30 minutes.
** These are really extra good if you add a "bite" to them – put a 1″ slice of a hot pepper in the bottom of the jar before ladling in the cuke mixture. I also made a few jars of these
from small sliced zucchini – good!
OR – just use ALL sliced onions for Bread and Butter Onions – YUM!
Categories: Boiling Water Bath, BWB Pickles & Pickled Stuff, BWB Vegetables
Submitted by: wvhomecanner on April 28, 2010