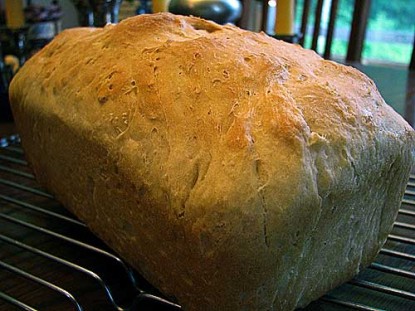 Difficulty: Easy
Servings: 1 loaf
Cook Time:
30 min
Ingredients
3 1/2 to 4 cups all-purpose flour
1 package yeast
(rapid-rise recommended)
1-1/2 cup warm water
salt to taste
1 tablespoon olive oil
Directions
In a large bowl, combine water with yeast, salt, and oil. Let sit for five minutes. Stir in flour until the dough is stiff enough to knead. (Don't go adding all that flour at once! Add a little at a time. The amount of flour is approximate; exact amount may vary and you may need less.) Knead dough until smooth and elastic–a few minutes. Place dough in a greased bowl; cover. Let rise until doubled. Punch down using extra flour; shape and place in a greased loaf pan. Let rise a second time. Bake for about 30 minutes (or until brown) in a 350-degree oven.
Categories: Breads, Yeast Breads
Submitted by: suzanne-mcminn on June 14, 2010