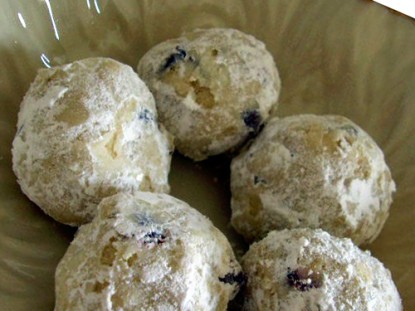 Difficulty: Easy
Ingredients
1 c. butter, softened
8oz pkg cream cheese
1/4 c sugar( vanilla sugar is so good )
3 c GF flour mix (sorghum mix or rice mix or your favorite commercial mix )
1tsp xanthan gum
1tsp vanilla extract
1/2 c pecans, chopped
1/2c dried cranberries
Directions
Preheat oven to 350.
In large mixing bowl, cream butter and cream cheese. Add sugar and beat until smooth. Mix xanthan gum in with flour and add to cream cheese, mixing well. Add vanilla. Stir in cranberries and pecans. Form into 1″ balls. Place on ungreased baking sheet so they aren't touching. They will not spread, so many will fit.
Bake for 10-12 minutes. Cool to touch and roll in powdered sugar.
Categories: Cookies & Bars, Gluten-Free, Holiday
Tags: Christmas Cookie
Submitted by: lala1 on December 20, 2010