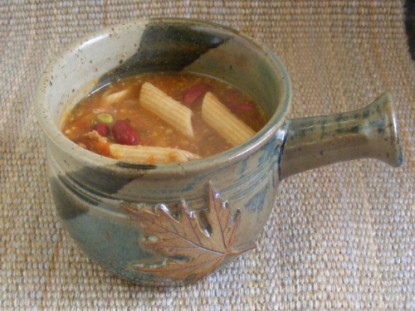 Difficulty: Easy
Servings: 10 to 12
Cook Time:
about 40 minutes
Ingredients
1 tablespoon olive oil
2 cloves garlic
1 onion, chopped
1 to 2 cups of shredded carrots
2 cans of diced tomatoes
1 box of beef broth
2 cups water
1 teaspoon dried basil
1/2 teaspoon oregano
1/4 teaspoon pepper
2 to 3 dashes of Tabasco sauce
1 (15 oz.) can of kidney beans, drained and rinsed
1 cup loosely packed spinach, finely minced
2 tablespoons of minced parsley
3/4 cup or more of elbow or shell pasta
Parmesan cheese
1 pound ground turkey (I use ground pork because I have it)
Directions
Heat olive oil in a large skillet over medium heat. Add garlic, onion and cook until onions are tender. Brown meat along with the onions. Stir in tomatoes broth, water, carrots, basil, oregano, pepper, and Tabasco. Cover and heat to boiling. Reduce heat and simmer for 15 minutes. Stir in beans, spinach, and parsley. Increase heat to high and bring to a boil. Add pasta and cook for 10 minutes. Serve with Parmesan cheese.
Categories: Other Soups & Stews, Soups & Stews
Submitted by: twiggitygoats on January 20, 2012