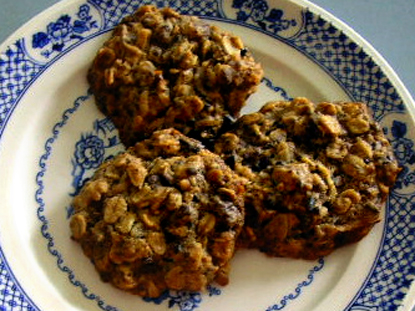 Difficulty: Easy
Cook Time:
12-16 min
Ingredients
6 Tablespoons unsalted butter, softened
1/2 cup sugar
1/2 cup sorghum flour
1/4 teaspoon xanthan gum
1/4 teaspoon baking powder
1/4 teaspoon baking soda
1/2 teaspoon salt
1 large egg
1 teaspoon vanilla
1/2 cup chocolate chips
1/2 cup shredded sweetened coconut
1/3 cup cacao nibs (optional, but they really add to the general incredibleness) *
1 1/2 cup rolled oats (the old fashioned kind)
Directions
In a bowl, cream butter and sugar. Add egg and beat until mixed.
In another bowl, add sorghum, xanthan gum, baking powder, baking soda, and salt. Stir to mix. Set aside.
Put chocolate chips and cacoa nibs in food processor and process until both things are smaller. They do not need to be processed into powder.
Mix dry ingredients in bowl with butter mixture. Add vanilla and mix. Stir in chocolate chip/cacoa nibs, and coconut. Stir in oats.
Drop by spoonfuls onto baking sheet with parchment.
Bake for 12-16 minutes. Ours took 14 minutes, but ovens vary.
Categories: Cookies & Bars, Gluten-Free
Tags: Christmas Cookie
Submitted by: lala1 on December 20, 2010