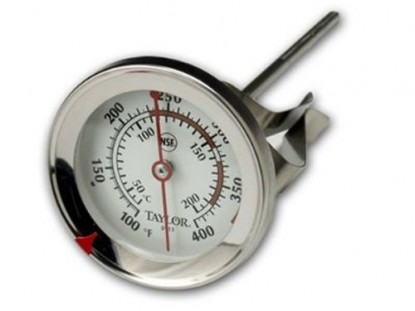 Thank you to all of you who have been posting recipes! My Farm Bell recipe box overfloweth! To mention just a few, I can't wait to try this chocolate cake the next time Weston's vegan girlfriend is here, and I'm longing for this apple custard pie. But for now, I'm making this crock pot tamale recipe. Because the oven repairman–that Maytag is paying for!!–came yesterday. AND BROUGHT THE WRONG PART.
I can't describe the disappointment. My loaf pans cried. Or maybe that was just me.
Okay, forget that, don't worry about me! I'LL BE FINE. (Maybe. At least I can have these avalanche bars.)
Today's giveaway is this candy/jelly/deep-fry thermometer with a pot clip. Cooking thermometers are so much fun. They make me feel so official!
For a chance to win: Just leave a comment on this post! One winner will be drawn by random comment number to receive the thermometer. Eligible entry cut-off is midnight Eastern (U.S.) time tonight (May 5). This post will be updated with the winner by 9 a.m. Eastern (U.S.) time tomorrow (May 6). Return to this post to see if you won.
Note: You must be registered to post a comment. Sign up (it's free!) and join us!
See the winner of yesterday's giveaway #2 here.
UPDATE 05/06/10: The winning comment number drawn by random.org is #58, Paulette. Email me at CITRgiveaways(at)aol.com with your full name and address for shipping!