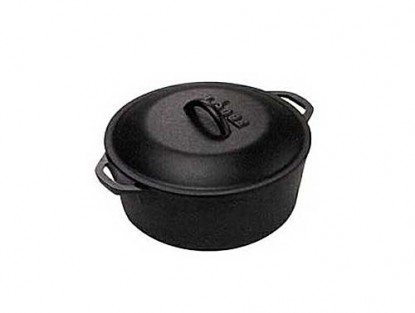 Win a Lodge 5-quart cast iron dutch oven
! I have one of these myself and I love it. It's great for slow-cooking soups and stews, meats and breads, and more. This one is even pre-seasoned!
For a chance to win: Show me your best summer stuff! Whether it's a main dish, a dessert, a side, or anything else, show me your favorite summer recipes. Submit a recipe then leave a comment on this post telling me the name of the recipe you submitted! You can enter multiple times for this contest by submitting more than one recipe. Leave one comment per submitted recipe for multiple chances to win.
Don't forget to show us a pic if you can!
One winner will be drawn by random comment number to receive the dutch oven. Eligible entry cut-off is midnight Eastern (U.S.) time Sunday (June 13). This post will be updated with the winner by 9 a.m. Eastern (U.S.) time Monday (June 14). Return to this post to see if you won. This giveaway is open all weekend!
Note: You must be registered to post a comment. Sign up (it's free!) and join us!
Want to subscribe to the Farm Bell blog? Go here.
Interested in contributing a guest post to the Farm Bell blog? Read information here for Farm Bell blog submissions.
UPDATE 06/14/10: The winning comment number, drawn by random.org, is #1, bonnie Email me at CITRgiveaways(at)aol.com with your full name and address for shipping!