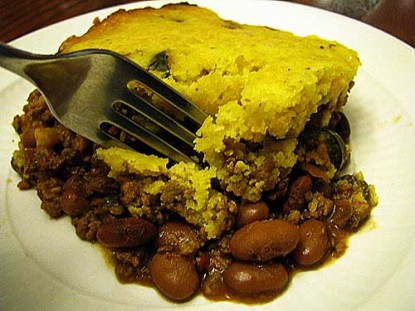 Difficulty: Easy
Servings: 8
Prep Time:
10 min
Cook Time:
5 hrs
Ingredients
Base:
1 pound ground beef, browned
1 1/2 cups cooked kidney beans (or 1 small can)
1 (10 oz) can enchilada sauce
1 1/2 tsp garlic powder
Cornbread topping:
1/2 cup all-purpose flour
1/2 cup cornmeal
1/8 cup sugar
1/2 tablespoon baking powder
1/4 teaspoon salt
1/8 cup butter (cut up) or oil
1 egg
1/2 cup milk or buttermilk
1/2 cup shredded cheddar cheese
Directions
Mix the base ingredients all together and add to crock-pot.
In a mixing bowl, stir together flour, cornmeal, sugar, baking powder, and salt. Add butter or oil, eggs, and milk or buttermilk. Stir to combine. Don't over stir. (Sometimes more or less milk is required, depending on slight variations in measuring dry ingredients–add what you need to get a nice, thick almost pourable-but-not consistency.) Stir in cheese.
Spoon the corn bread mixture over the beef mixture in the crock-pot.
Cook on Low until the cornbread is cooked through, about 5 hours.
**I cooked this in the oven at 425 for 25 minutes.
Categories: Beans, Beef, Casserole, Crock Pot, One Dish Meal
Submitted by: cindyp on April 20, 2010