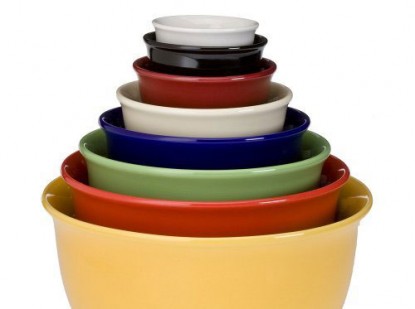 Have you checked out your recipe box yet? If I had to pick one favorite feature here, it would be the recipe box. I love being able to save recipes I want to try later–and not having to hunt them down again! On the recipe box page, you also get your recently viewed recipes as well as what others have been recently viewing. It's so much fun! By the way, have you clicked the Print button at the bottom of any recipe yet? Go ahead, click on the Print button on a recipe. I'll wait. (You don't have to print, just go see it.)
Did you see how cute that Print page is??? I'm in love with the Print page.
Okay, back to business! Launch Week Giveaway #2 is this really cool 8-piece ceramic bowl set in assorted colors with a handy nesting design for easy storage. I'm telling ya, if you don't want this, I do.
For a chance to win: Submit a recipe then leave a comment on this post telling me the name of the recipe you submitted! You can enter multiple times for this contest by submitting more than one recipe. Leave one comment per submitted recipe for multiple chances to win.
One winner will be drawn by random comment number to receive the 8-piece ceramic bowl set. Eligible entry cut-off is midnight Eastern (U.S.) time tonight (May 4). This post will be updated with the winner by 9 a.m. Eastern (U.S.) time tomorrow (May 5). Return to this post to see if you won.
Note: You must be registered to post a comment. Sign up (it's free!) and join us!
To see who won yesterday's giveaway #1, go here.
UPDATE 05/05/10: The winner, drawn by random.org, is comment #150, which is Kim of SakuraSundries (with her comment for her Grilled Salsa Chicken recipe. Email me at CITRgiveaways(at)aol.com with your full name and address for shipping!
I love these bowls! I promise I'll include them in future giveaways. Maybe I can win some time! (LOL)