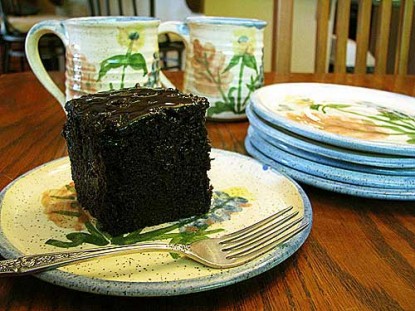 Difficulty: Easy
Servings: approx. 12 - 3" servings
Prep Time:
approx. 20 minutes
Cook Time:
30-40 minutes
Ingredients
3 cups all-purpose flour
2 cups sugar
2/3 cups cocoa
2 cups cold coffee (can substitute water)
2/3 cup oil
1 1/2 teaspoons salt
2 teaspoons vanilla
2 1/2 teaspoons baking soda
2 teaspoons vinegar
Directions
Mix flour, sugar, cocoa, coffee or water, oil, salt, and vanilla until a smooth batter is formed. Do not over mix*. Mix soda and vinegar until soda is dissolved and add to cake batter. Stir into batter until soda solution is thoroughly incorporated. Pour into 9″x13″ greased pan (can use 2 – 9″ round pans).
Bake at 350 degrees for 30 – 40 minutes or until cake tester comes out clean in the middle of the cake.
* Over mixing causes cake to become tough. Mix only until ingredients are thoroughly combined.
Categories: Cakes, Desserts, Lactose-Free, Non-Dairy, Old-Fashioned, Vegan, Vegetarian