I like to think my kitchen drawers are in pretty good shape right now. I moved into this house less than three years ago, so I haven't had all that much time to junk them up. And I'm older and wiser and more mature than I was in my younger days when my kitchen drawers were full of junk.
Or am I?
I'm in the mood to not just be frugal with money, but also with my living space. My kitchen drawers should be workhorses. If I don't use it on a regular basis, it doesn't belong. Time for an inspection.
Most of my kitchen drawers are what I think of as "business" drawers. They are all about getting things done. This is my silverware drawer. The only extras allowed in here are handy items used almost daily like a can opener, kitchen scissors, measuring spoons, or my favorite bread knife.
Well, I don't know how that corkscrew got in there because I don't use that daily, but still. I feel pretty good about this drawer!
This one is directly below the silverware drawer. (It's a cabinet section of four drawers.) It holds more businessy items like a grater, knives, my milk/cheese thermometer, and other handy things I use pretty often. I'm not doing too bad there, though it's a little cluttered.
This next drawer is what I think of as the mixer drawer. It's a little deeper, so the mixer fits. And unfortunately, now that I look at it, the mixer is the only thing in there that really gets a lot of use–and in fact, now I have a stand mixer, so the hand mixer won't be seeing the light of day so often. This drawer needs work.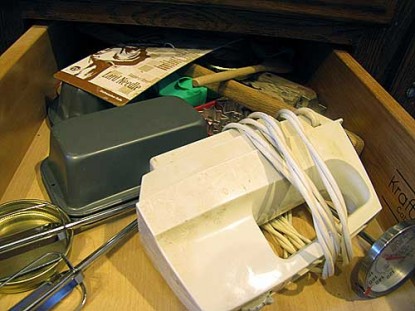 The bottom drawer is even deeper, and I keep a lot of various handy items in there that I use all the time. The drawer is so full of handy items, I get frustrated trying to find things in it sometimes. Now I know that I need to clean out the "mixer drawer" and divide some of the handy items out of the bottom drawer into the mixer drawer so the things I really need and use are easier to find. My bottom drawer is all business, but it's too full.
I have another business drawer by the stove. I think I'm doing pretty good here!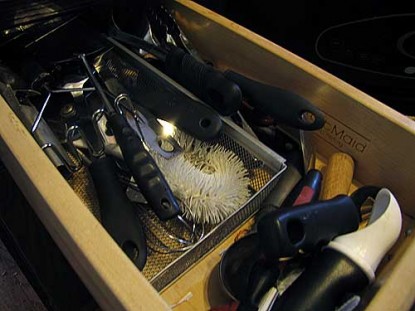 The main problem with this drawer is that, like the bottom drawer, it's too full and is sometimes frustrating because things get stuck and the drawer won't shut, so I'm always having to fiddle to get it shut with all that handy stuff inside. I need to clean out the junk from other drawers and spread the useful stuff out for easier use.
This drawer looks pretty good at first glance. It's where I keep the oven mitts (which need to be retired and replaced, they are so worn out), and I use them every day.
Only what's all this stuff in the back of the drawer?
How does stuff like that get in kitchen drawers? I'm ashamed of this drawer. I do have a drawer I think of as my kitchen "junk drawer" but this one isn't it!
This is my junk drawer. The most useful thing in this drawer are matches I use to light candles. Otherwise, it's clogged up with all sorts of unnecessary stuff like a kitten bottle. (I haven't bottle fed a kitten in a year, so this kitten bottle hardly needs a priority spot in the kitchen.) And what's this clear glass thingy and where did it come from?
And what is this, a drill bit???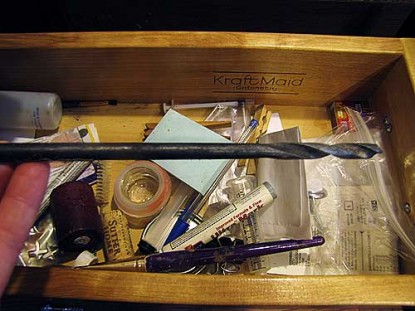 I think that's a little over the top, even for a kitchen junk drawer.
And that's just one of the many reasons it's good that kitchen drawers were made to….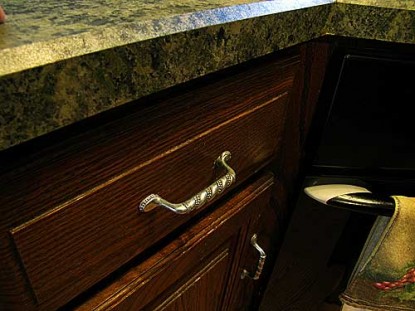 ….shut.
P.S. I'm going to get to work on my kitchen drawers. You? Tell me about your drawers!

Interested in contributing a guest post to the Farm Bell blog? Read information here for Farm Bell blog submissions.

Want to subscribe to the Farm Bell blog? Go here.