I'm constantly on the quest to make my own of whatever I usually buy in the canned food or frozen sections of the grocery store. One by one, I'm making my way down the list!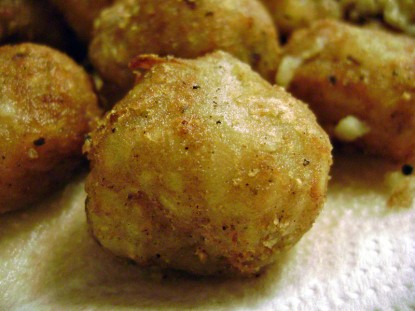 The latest I've tried and really loved was homemade tater tots. John (SO) always makes homemade fries, they're better than McD's. But tater tots are just a little different — I don't know why, they're both potatoes, and I like them better! There's different ways to making tots, but I'm making these ones with partially cooked potatoes – and adding a little cheese.
Cover potatoes with water; bring to boil, reduce to simmer. Cook for about 20 minutes until tender but not done.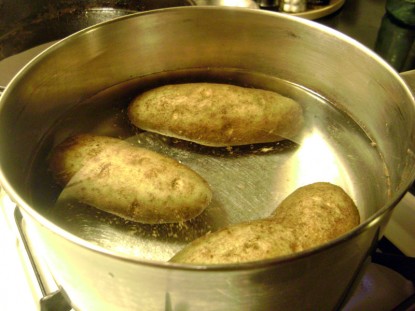 Take out of water, let cool until they're able to be handled and peel. It's much easier to peel after they're cooked and you don't waste any potato.
Grate the potato. This is why I peeled them. Normally I leave the peel on potatoes, but they just didn't want to go through the grater.
These 3 potatoes gave me 3 cups of shredded potatoes. Add cheese and 1 teaspoon seasoning salt (I use my homemade no-salt version) and stir together.
Roll into balls, ovals, whatever shape you want — as big or as small as you'd like.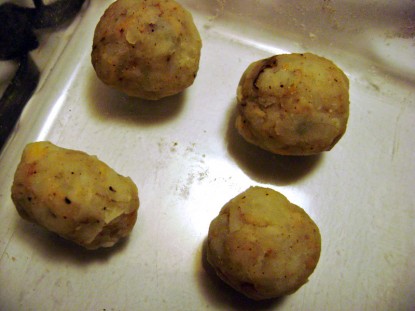 Place onto a sheet and refrigerate for about 1/2 hour. I got 21 balls — a bit bigger than a store bought tater tot — out of these 3 potatoes.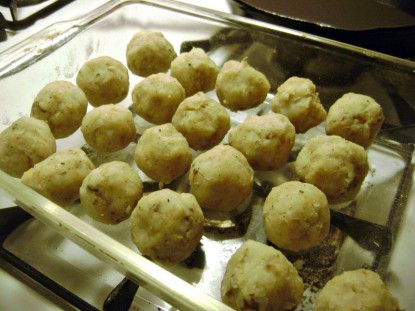 Combine flour and another teaspoon seasoning salt.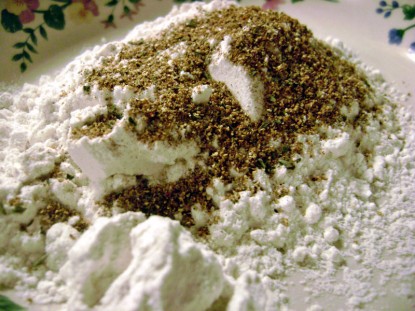 Dredge the tots through the flour, just lightly rolling around.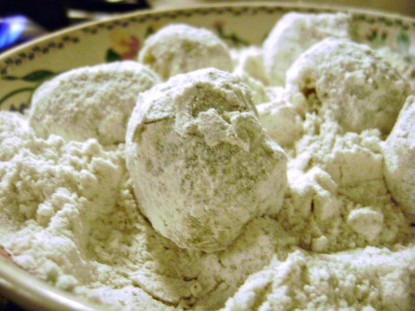 Place in hot oil, cooking until nice golden brown and crispy. The potato is cooked, we're only looking to get the outside browned and crisped. Make sure your oil is hot to begin with or they won't crisp and will fall apart from the potato getting too done and mushy.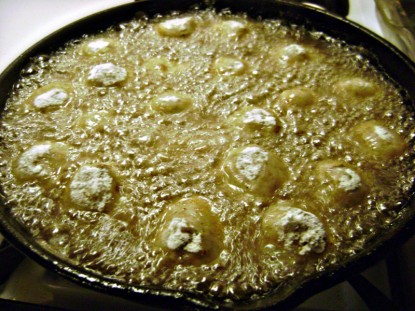 There you go! Homemade Cheesy Tater Tots — not much time and oh so much better than even Ore Ida!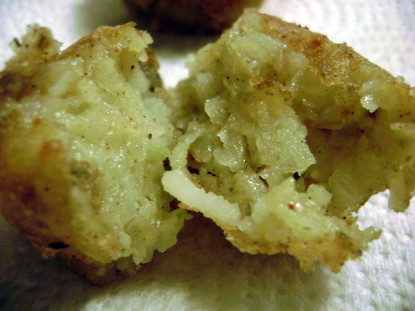 Get the recipe, the handy print page and save this to your recipe box here:
Cheesey Tater Tots.

Cindy blogs at Chippewa Creek ~ Our Life Simplified.

Interested in contributing a guest post to the Farm Bell blog? Read information here for Farm Bell blog submissions.

Want to subscribe to the Farm Bell blog? Go here.