There was a European folktale of a hungry traveler who came to a village with a soup pot. No one there would give him any food. He told an old woman that he would make soup from a stone. He conned her into an ingredient. Word traveled quickly and others became interested in the curious soup. Each person that approached the traveler was talked into adding something that would make it better. A carrot, potato, other vegetables, and spices went into the pot. Eventually, there were many ingredients added as the pot of soup cooked.
Like many folktales, this one had a lesson. It was to teach children about cooperation when there is scarcity. It also revealed a very clever character, the traveler. I know a very clever character. She's actually a home school mom who is a friend of mine. She's one of those people who come up with ideas that leave the rest of us in awe. My friend had a Stone Soup Party. She invited other families to bring ingredients and everyone added them to a large stockpot. One family brought canned tomatoes, another some onions, while others brought corn, carrots, stock, and anything else needed to make vegetable soup. The clever mom told each guest what they needed to bring so the soup would turn out good. While the pot boiled away, the families played board games, did puzzles, and the Stone Soup Story was also read aloud.
When the soup was ready, the hostess served it with someone's contribution of bread and later a dessert. This idea might not fit everyone's way of entertaining, but I think it's a creative way for families to interact. It could also be a good lesson on cooperation for small children.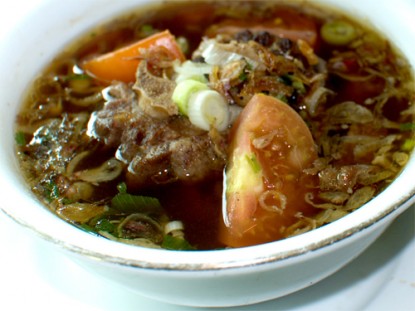 You're probably wondering about the stone. The stone can be present at the event, but I would not put it in the soup.*
The one tip she gave me was to make sure that more than one family brings each thing. That way, if junior gets a sore throat and someone cancels last minute, there would still be someone to bring each ingredient.
Let us know if you have a Stone Soup Party!
*Legal Disclaimer: This is the part where the lawyer in the thick glasses warns you of the inherent dangers of stones in soup. Since we don't want anyone choking, or eating some crumbly particles from a stone, please don't put one in your soup. Leave that behavior to story characters.

Patrice blogs at Everyday Ruralty.

Interested in contributing a guest post to the Farm Bell blog? Read information here for Farm Bell blog submissions.

Want to subscribe to the Farm Bell blog? Go here.