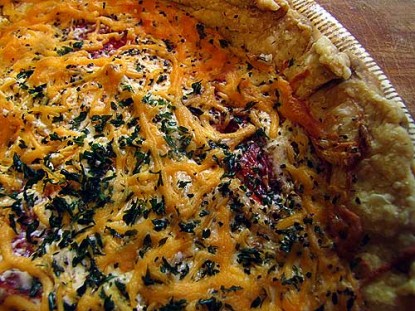 Difficulty: Easy
Servings: 8
Prep Time:
20 minutes
Cook Time:
30-35 minutes
Ingredients
1 unbaked pie shell
1 cup mayonnaise
2 cups shredded cheddar
1/4 teaspoon black pepper
1/4 cup chopped onions
1 1/3 pounds sliced tomatoes
Directions
Line greased pie plate with pastry. Bake about 5 minutes until only partially baked.
In a medium-size bowl, combine mayonnaise, 1 1/4 cups of the cheese, and pepper. Sprinkle 1/2 cup of the cheese on bottom of partially baked pie shell. Top with 1/4 of the sliced tomatoes. Sprinkle with 1 tablespoon of the onions. Spoon 1/3 cup of the mayonnaise mixture on top in dollops. Continue to layer tomatoes, onions, and mayonnaise mixture to make two more layers. Sprinkle top with remaining cheese. Toss with herbs such as parsley, chives, or basil.
Bake on lower oven rack for 30-35 minutes at 350-degrees.
I can see also making this with cream cheese instead of mayo and plan to try that sometime! If you aren't vegetarian, you could add some chopped cooked bacon or ham, too. This is a wonderful way to use summertime garden tomatoes.
See Foolproof Pie Crust.
Categories: Cheese, Dairy, Main Dish, Vegetarian
Submitted by: suzanne-mcminn on July 29, 2010