I'm an immigrant. In January of 2002, our family moved to Canada for my husband's work. We thought it would be exciting and that we would try it for a few years. If it wasn't what we'd hoped for, we could always move back. It was just a few hours by plane.
But we loved it so we stayed, and although it was not always easy, we adjusted as we faced some difficulties. People were different than Europeans, as were the climate and habits.
Food was different too, and sometimes we missed certain kinds of foods. I knew my parents would always send me something if I wanted, but it was more fun to try to find the ingredients and make it myself. I bought "strange" snacks, and sometimes I thought…. Hey this kinda tastes like this or a bit like that.
One afternoon, stuffing my face with gingersnaps, which taste of pepernoten, I realized that the millions of immigrants who came here before us, under totally different circumstances, tried to do the same things I was trying to do–find comforting flavors that reminded them of home. (They couldn't catch a plane back if they got homesick.)
I can order any ingredient I need online if I want it and can't find or make it, but (y)our ancestors could not. They had to work with what they had. I'm pretty sure that is why I sometimes find cookies that taste a bit like something I know, but not quite. There are ingredients missing, and something else was added to take its place.
I understand now how important it is to keep at least some of your own heritage in your food. Immigration and a craving for food like "back home" is not any different than it was 100 or 150 years ago.
Now if I only could get my hands on a recipe to make drop. Anyone?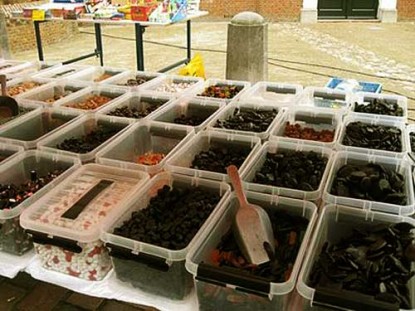 Drop, a licorice treat, as you would see it displayed in Dutch markets. The Dutch love their licorice!
You can also find Astrid at Apple Tree Acres.

Interested in contributing a guest post to the Farm Bell blog? Read information here for Farm Bell blog submissions.

Want to subscribe to the Farm Bell blog? Go here.