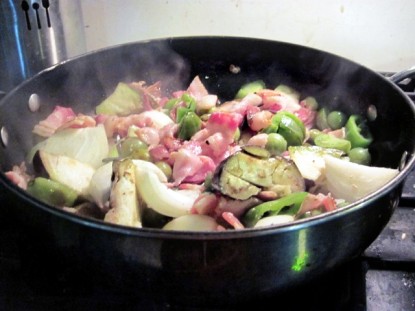 Look at this pan filled with yummy goodness. It had all the makings of a perfect bean soup.
Yet somehow, somewhere, something went horribly, horribly awry.
The garden had finally frozen over, and during my weeding, I found some late-fall veggies who had been hiding under the foliage–green tomatoes, eggplant, green bell peppers, red bell peppers, Anaheim chilis, onions.
I took a handful of bacon trimmings, chopped them up with the veggies, and browned them lightly. When the veggies were done, I tossed them in with my pot of beans cooking in chicken stock.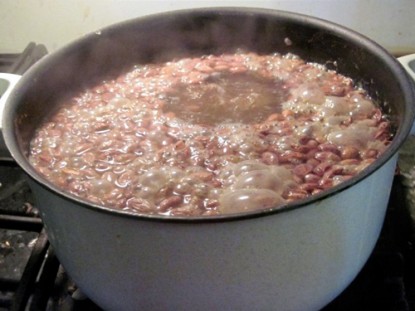 It should have been a no-brainer. Yet somewhere along the line, this pot of soup turned into The Dead Sea. It was so salty you could float a horseshoe on it.
OK, maybe it just tasted that way.
I am not sure what happened. I don't cook with salt, and the beans were dried–not canned. Perhaps the bacon was salted, but if you look above, you will notice the pot is HUGE and filled with water. The small amount of bacon I added shouldn't have made a difference.
I blame gremlins.
The kids wouldn't eat the soup. Everyone else choked down a half-bowl…with lots and lots of bread.
I thought about tossing it to the chickens, but I was afraid the salt would mummify them from the inside out. In the end, I doubled up the water and made dirty rice with the leftovers. The end result was still saltier than I like it, but definitely edible. Tasty even.
It just goes to show, you can't win them all…especially if you have gremlins.

Larissa blogs at The Henway.


Do you have a recipe post or kitchen-related story to share on the Farm Bell blog?
Read information here for Farm Bell blog submissions.

Want to subscribe to the Farm Bell blog? Go here.