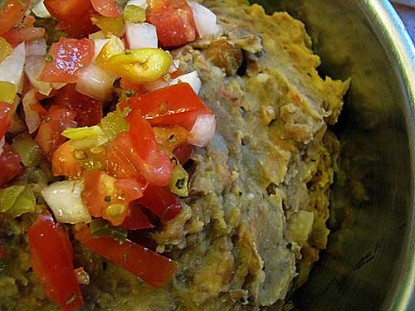 Difficulty: Easy
Servings: about 2 1/2 cups
Ingredients
1 1/2 cups dry pinto beans
1/4 cup vegetable oil or bacon grease
1 tomato, diced
1/2 of a small onion, minced
2 jalapeno or banana peppers, chopped
1 teaspoon garlic powder
1/2 teaspoon cumin
cayenne pepper (optional)
salt
Directions
Rinse and drain beans. Cover with water and bring to a boil. Turn off heat and soak for one hour (with the lid on the pot). Rinse and drain again then cover with water in the same pot and bring to a boil. Simmer, covered, another one to two hours, until tender. Drain (reserve liquid).
In a large skillet, heat vegetable oil or bacon grease. Add tomato, onion, peppers, garlic powder, cumin and cayenne pepper (a little, a lot, up to you!); saute on medium-low until onion and peppers are soft (about 15 minutes).
Continuing to cook, add drained beans, seasoning with salt to taste. Using a potato masher, mash beans in the skillet, adding cooking liquid from the beans as needed.
Once beans are mashed and well-blended, turn off heat.
Categories: Beans, Grains & Rice
Tags: Mexican
Submitted by: suzanne-mcminn on June 14, 2010