My dreams are made of this dip. Hot, cheesy, and gooey. I could get lost in its garlic-flavored cheese forever. Needless to say, because of its copious amounts of cheese, this only finds its way to our table at special occasions. But, oh what a treat it is!
This is one of my family's all-time favorite hot dips. We have been known to sometimes make a whole meal out of this. I used to make the dip with the help of a packet of dry vegetable soup mix, but we have since started making it from scratch and love it even more.
Toasty bread is a must for dipping, but tortilla chips are just as good. Feel free to change up the cheeses, I don't always have all of these on hand at the same time. Mix and match, use what's in your pantry. That's what I think makes a good recipe. It has guidelines, but isn't set in stone. Now, go forth and make DIP!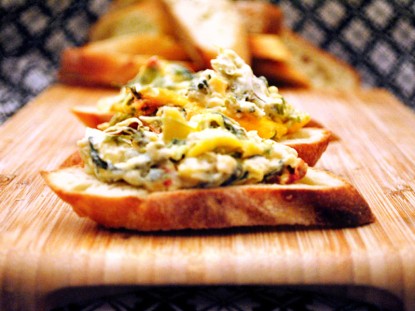 How to make Hot Artichoke Dip with Spinach:
1 (8 oz) package cream cheese, softened
1/4 cup mayonnaise
1/4 cup Parmesan cheese
1/4 cup Romano cheese
2 cloves garlic, peeled and minced
salt and pepper to taste
1 (14 oz) can artichoke hearts, chopped and drained
1/2 cup frozen spinach, defrosted and drained well
1/2 cup shredded mozzarella cheese
Preheat your oven to 350 degrees; grease a small baking dish. Mix everything but the artichoke, spinach and mozzarella cheese together. Gently fold in the artichokes and spinach. Spread into a baking dish. Top with mozzarella and bake until hot and bubbly. It usually takes about 30 minutes.
If you are taking this somewhere, I would advise you to double the recipe and put it into a 9 x 13 inch baking dish. Oh, and do yourself a favor and write the recipe down. You will get more than one request for it.
Get the handy print page and save this to your recipe box here:
Hot Artichoke Dip with Spinach.

Charley blogs at Cooke's Frontier.


Do you have a recipe post or kitchen-related story to share on the Farm Bell blog?
Read information here for Farm Bell blog submissions.

Want to subscribe to the Farm Bell blog? Go here.