I've been piling recipes in my recipe box and you guys never fail me! I took some monster pork chops out of the freezer the other day and just didn't want to do the same old ho-hum thing with them. I went looking through my recipe box and rediscovered this sweet and sour pork chops recipe posted by debnfla3 and it looked just different and fun enough to get me excited. It didn't disappoint!
Monster pork chops.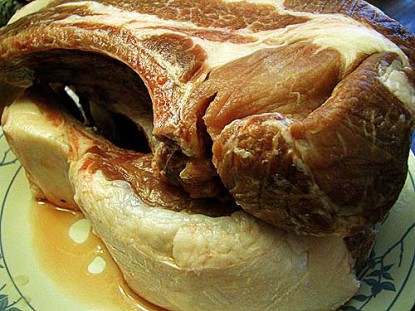 See the original posted recipe here for the handy print page.
How to make Sweet and Sour Pork Chops:
1 8-ounce can crushed pineapple, undrained
1 cup honey barbecue sauce
1/3 cup finely chopped onion
2 tablespoons chili sauce
4 bone-in pork loin chops (3/4 inches thick and 8 ounces each)
In a small bowl, combine the pineapple, barbecue sauce, onion, and chili sauce.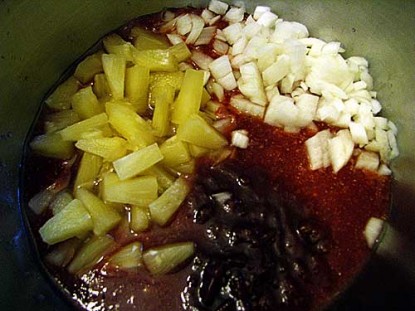 I used tidbit pineapple, because that's what I had in the pantry, and three monster pork chops instead of four 8-ounce chops. There was still plenty of sauce.
I've been crock pot cooking a lot lately because of my oven being out of commission, so I wasn't eager to use my crock pot again. I used a 9 x 13 casserole pan instead. If using a crock pot for four smaller chops, use a 3-quart cooker. If doubling the recipe (and it would easily double), you'd want to use a 6-quart.
Pour half of the sauce into your casserole pan or crock pot. Lay in the pork chops then top with remaining sauce.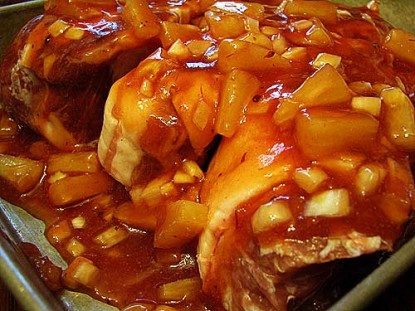 Cover. Cook in a crock pot on Low for 4 to 5 hours or until meat is tender. I cooked mine in the oven on 325-degrees for 1 1/2 hours. (Your time will vary depending on the size of your chops.)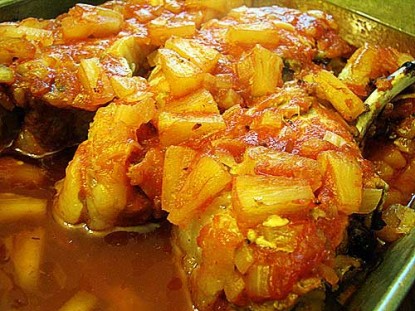 This was fantastic and I got raves from the kids! This was a very quick and easy dish to put together yet tastes like something special. It's a keeper.
Keep the great recipes comin'! Now tell me what you've been cooking and trying out from here? If you make something from Farm Bell, don't forget to take a photo if you can and add it to the photo gallery on the recipe!