Egg noodles, and not just any egg noodles, homemade egg noodles make any dish better. They're a comfort food all their own.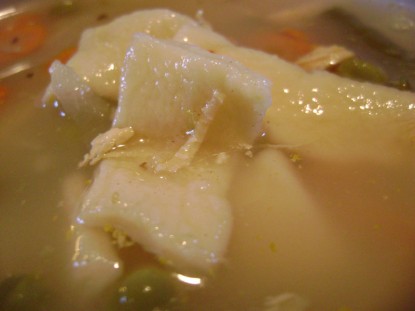 Just like bread, I only knew homemade noodles growing up. It's difficult for me to know that some people haven't had the pleasure of eating homemade noodles.
I had family in town last week. My great-nephews (teenagers) didn't know there was such a thing! Hunh! As I was introducing them to other new foods last week, I added in the homemade noodles to Chicken Noodle Soup. The oldest even took over the rolling process – it became a family production.
The recipe I use is the one Mom always used and comes from her 1947 Culinary Arts Institute Encyclopedic Cookbook (a wedding gift — she didn't know how to cook when she was 17).
How to make Homemade Egg Noodles:
1 egg
1/4 teaspoon salt
2/3 cup flour (about)
Beat egg slightly.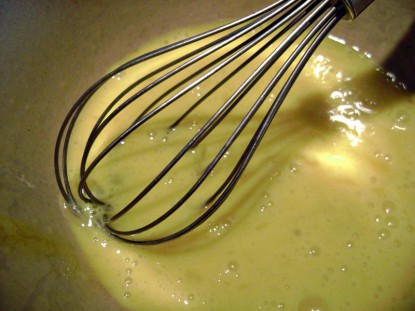 Add salt and enough flour to make a stiff dough.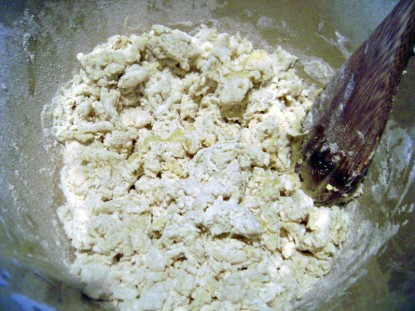 Knead well.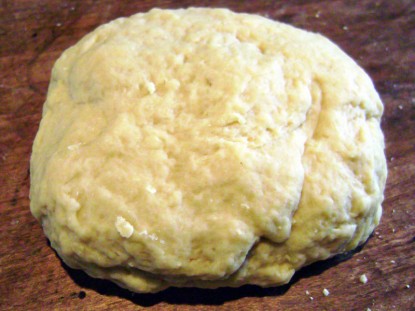 On a floured board, roll out paper-thin with a rolling pin.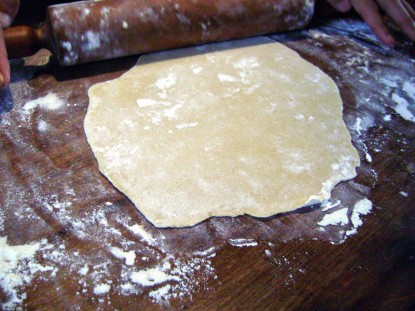 After rolling, dust top with flour. This makes pulling the noodles apart after cutting simple.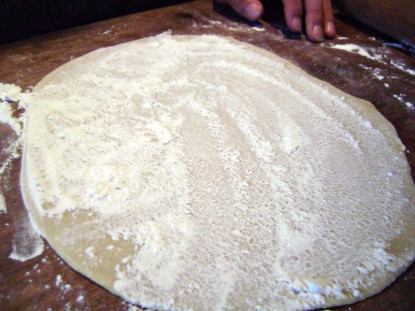 Roll up like a jelly roll.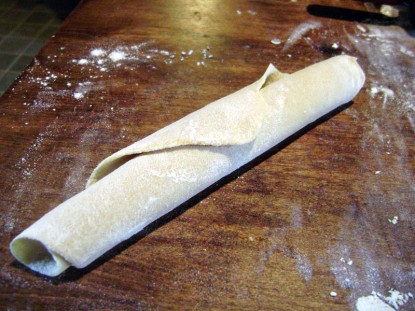 Slice across roll into strips.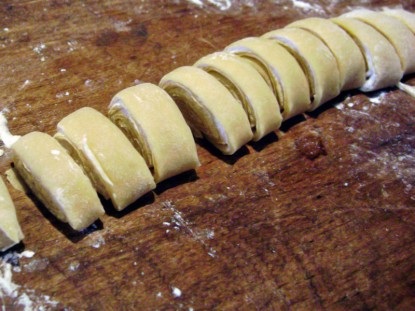 Slice strips in half.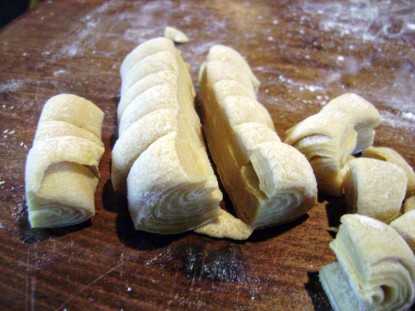 Pull noodles apart and cook by dropping into boiling salted water or broth; cook until done, about 10 minutes. I don't cook first then drain like I would normally do with bought noodles — I put them right into whatever dish I'm making. I scrape all of the extra flour into the pot also, it thickens the broth a bit.
Many recipes, this one included, normally call for letting the kneaded dough sit for half an hour or so before rolling. I don't do this — I don't notice the difference of it sitting it or not.
Also, some call for them to be dried before cooking. While they can be dried to be used later, I like fresh best and skip the drying process.
By taking these extra steps out makes for a fast dish. Step up your next noodle dish by using Homemade Egg Noodles instead of the bagged variety from the grocery store — Chicken Noodle Soup, Turkey Noodle Soup, Beef or Chicken & Noodles.
Get the handy print page and save this to your recipe box here:
Homemade Egg Noodles.

Cindy blogs at Chippewa Creek ~ Our Life Simplified.

Interested in contributing a guest post to the Farm Bell blog? Read information here for Farm Bell blog submissions.

Want to subscribe to the Farm Bell blog? Go here.