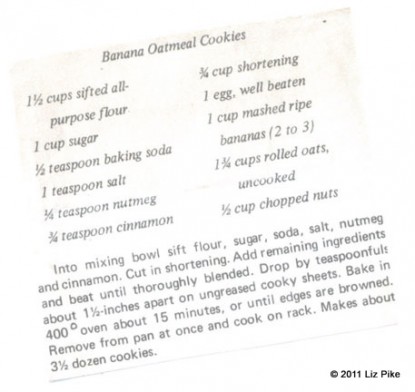 This is another installment in sharing with you the beloved recipes of my grandmother who died in 1986. Recently discovering her recipes has given new meaning to my cooking and baking as I re-discover the food she made for us.
The recipe I share today wasn't found in her hand-writing. I'm not sure from where it originated and numerous internet searches simply proclaim the recipe an old one. It didn't match the numerous recipes she cut out from Carolina Farmer (published today as Carolina Country), and it doesn't appear to be a recipe cut from a package. I remember eating these in her kitchen, sitting in the little rocking chair I inherited from her, beside the oil stove she used for heat.
For a good part of my childhood, we grew up without a television, something that even as a child I didn't mind. There was too much to do outside to be cooped up watching TV, but occasionally in the summer I'd make up an excuse to walk through the woods to Mother's house. Of course this always coincided with the afternoon showing of the Beverly Hillbillies, and then surprisingly enough when it went off, I'd make an excuse for needing to get on home. I think Mother had her suspicions as to my real reason to visit as occasionally she'd have these waiting for me.
These cookies are good, almost like banana bread in a cookie. More cake-like than cookie, the basic recipe invites experimentation depending on the season. I can imagine making these around the holidays, substituting pumpkin pie spice for the nutmeg and cinnamon, pumpkin puree for the shortening or butter, and then tossing in some dried cranberries or raisins.  However they're made, these will now become a staple in my kitchen! Thanks, Mother!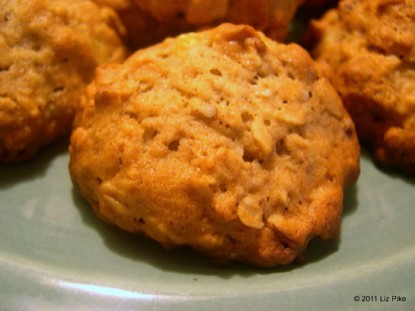 How to make Banana Oatmeal Cookies:
yield: 3 1/2 dozen cookies
1 1/2 cups sifted all purpose flour (I just whisk mine)
1 cup sugar
1 teaspoon salt
1/4 teaspoon nutmeg
3/4 teaspoon cinnamon
3/4 cup shortening (or butter)
1 egg, well beaten
1 cup mashed bananas (2-3)
1 3/4 cups dry oatmeal, old fashioned, not quick-cook
1/2 cup chopped nuts
Whisk dry ingredients together. Cut in shortening or butter. Add remaining ingredients and stir until blended. Drop by teaspoonful about 1 1/2 inches apart on ungreased cookie sheets (I used parchment on mine).
Bake 400° for about 15 minutes until edges are slightly browned. Watch the oven. Mine started burning on the bottom before the tops were done, even in a convection oven. Remove to rack to cool.
Next post, I'll have another cookie recipe in her own writing with a couple of surprising ingredients!


Get the handy print page and save this to your recipe box here:
Banana Oatmeal Cookies.
Liz Pike blogs at Horseshoe Gardens.

Do you have a recipe post or kitchen-related story to share on the Farm Bell blog?
See Farm Bell Blog Submissions for information, the latest blog contributor giveaway, and to submit a post.

Want to subscribe to the Farm Bell blog? Go here.
What can you enter to win this month? Click here.