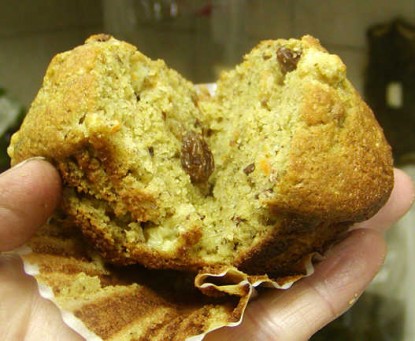 These are fantastic muffins! They rise high and are tender, moist, delicious–and gluten free! Most good gluten free recipes use xantham gum, which is very expensive, but this one doesn't. I was thrilled to find a gluten free recipe with so much protein in it, too!
Some of these flours are hard to find. I got most of the ingredients at my local bulk food store. It is one of my favourite places to shop with so many varieties to try. I always come home with a bag full every time I go.


I ground my own sunflower seeds and I ground my own millet flour. I used what is basically my coffee bean grinder but will grind just about anything. It does a great job and is so quick and easy to use!


They rose like any other muffin and are moist and delicious!
How to make Gluten Free Carrot, Raisin, Banana, Nut Muffins:
1/2 cup ground almonds
1/3 cup ground sunflower seeds
1/4 cup ground flax seeds
3/4 cup brown rice flour
1/4 cup corn flour (white or yellow)
1/4 cup millet flour (I grind my own)
1/2 teaspoon salt
1 teaspoon baking powder
1/2 teaspoon baking soda
1/2 teaspoon ginger
1/2 teaspoon nutmeg
1/2 teaspoon cinnamon
1/4 cup brown sugar
1/4 cup white sugar
1/2 cup chopped dried fruit ( I used raisins)
1/2 cup grated carrot
3 tablespoons oil
1/2 cup whole milk (or 2% with a tablespoon butter or cream added)
2 eggs
2 small or 1 large banana

Mix all dry ingredients in one bowl. Mix all the wet ingredients in another large bowl with mixer. Slowly and gently fold the dry ingredients into the wet ones. Be very gentle and only mix them until they are all combined. Do not over mix.
Fill muffin papers to the top. Makes 11 standard medium muffins.
Bake at 400 degrees F for approx 18 minutes or until a toothpick inserted in the center comes out clean and dry.


Get the handy print page and save this to your recipe box here:
Gluten Free Carrot, Raisin, Banana, Nut Muffins.
Sheryl – Runningtrails blogs at Providence Acres Farm.

Do you have a recipe post or kitchen-related story to share on the Farm Bell blog?
See Farm Bell Blog Submissions for information, the latest blog contributor giveaway, and to submit a post.

Want to subscribe to the Farm Bell blog? Go here.
What can you enter to win this month? Click here.