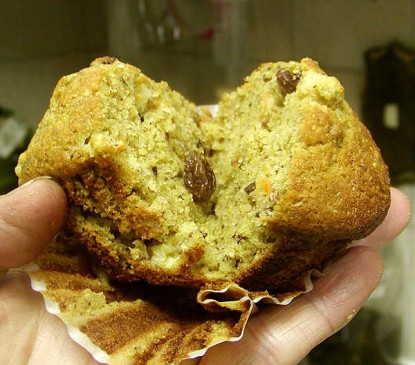 Difficulty: Easy
Servings: 11
Cook Time:
18 minutes
Ingredients
1/2 cup ground almonds
1/3 cup ground sunflower seeds
1/4 cup ground flax seeds
3/4 cup brown rice flour
1/4 cup corn flour (white or yellow)
1/4 cup millet flour (I grind my own)
1/2 teaspoon salt
1 teaspoon baking powder
1/2 teaspoon baking soda
1/2 teaspoon ginger
1/2 teaspoon nutmeg
1/2 teaspoon cinnamon
1/4 cup brown sugar
1/4 cup white sugar
1/2 cup chopped dried fruit ( I used raisins)
1/2 cup grated carrot
3 tablespoons oil
1/2 cup whole milk (or 2% with a tablespoon butter or cream added)
2 eggs
2 small or 1 large banana
Directions
Mix all dry ingredients in one bowl. Mix all the wet ingredients in another large bowl with mixer. Slowly and gently fold the dry ingredients into the wet ones. Be very gentle and only mix them until they are all combined. Do not over mix.
Fill muffin papers to the top. Makes 11 standard medium muffins.
Bake at 400 degrees F for approx 18 minutes or until a toothpick inserted in the center comes out clean and dry.
Categories: Gluten-Free, Muffins
Submitted by: runningtrails on September 12, 2011