It's been reallllly hot in most places–at least here in the U.S. where it's only a few weeks into summer. And I am thinking about Christmas? It's not because I am trying to recall last December's snowstorms here in WV (brrrrrr) in an attempt to stay cool. It's about starting to prepare for Christmas while I am putting up summer's gifts of fresh produce!
Whether you are a seasoned canner or you are planning to take the leap into canning as a newbie, you can start your Christmas 'shopping' now. How? Keep gifting in your planning.
When you are canning, purposely can some of your goodies for gifts! This may mean canning some of your current project in smaller jars, depending on what you want to use as gifts and who will be the lucky recipient. For example, when I am canning salsa, I can some in half-pint jars for those who I know will want to try it but likely won't use a larger amount quickly. Or if it's a quite spicy salsa you can do the same to share with the 'pepperheads' whose other family members don't share their lust for breaking out in a sweat while munching. Small jars are also great gifts for those who live alone. Your gift jars don't have to contain complicated gourmet delights–sometimes the simplest things are the most appreciated!
I stock my shelves with my canned goodies of all sizes and when December rolls around I literally shop my cellar room.
One part of my cellar room.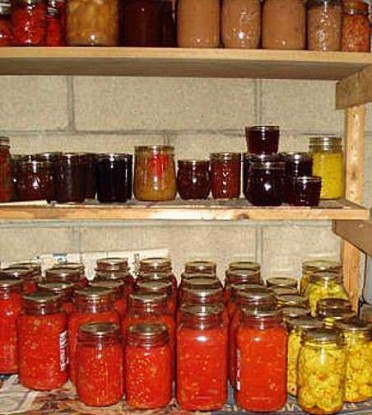 You can put together something as simple as a loaf of bread and a jar of your jam or jelly. You could wrap these together on a cutting board. A jar of salsa can be paired with some home-baked tortilla chips.
Cut flour tortillas and bake until lightly browned and crisp.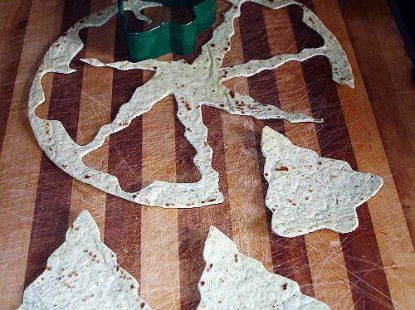 You can do as I do and shop for things that are related to a theme, and add your jars that are decorated to match for a basket that is the entire gift.
Nascar and Coke themed basket.

Grape themed basket for a kitchen decorated with grapes.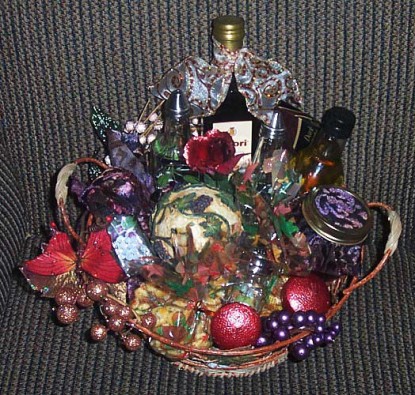 Speaking of decorated jars–I've gone from circles of fabric cut and held in place by the jar ring, to fluffs of tulle tied with ribbon and adorned with something useful–
Kiwi jam with a jam spreader.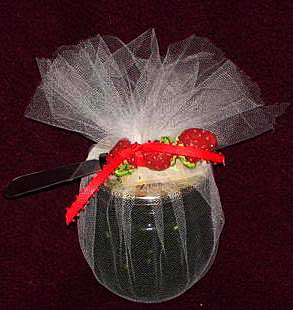 –and then I discovered great little sheer bags with drawstring tops that I can order online to pop jars into, cello bags that I can fill with homemade candies and snack mixes and dipped pretzels …. and ….. and …..
Merry Christmas in July! Get those home shopping ideas going NOW!
You can also find Dede at Yahoo's Canning2.

Interested in contributing a guest post to the Farm Bell blog? Read information here for Farm Bell blog submissions.

Want to subscribe to the Farm Bell blog? Go here.