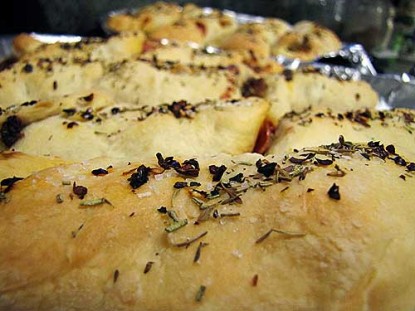 Difficulty: Easy
Servings: 8 large rolls
Prep Time:
30 minutes, not counting rise time
Cook Time:
20 minutes
Ingredients
Dough for the Rolls:
1 1/2 cups warm water
1 teaspoon yeast
2 tablespoons sugar
1/2 teaspoon salt
1/3 cup olive oil
4 cups flour
Filling:
8 ounces ricotta (or other soft cheese)
6 ounces shredded mozzarella
8 ounces sausage, cooked, crumbled
4 ounces sliced pepperoni
Topping:
olive oil
coarse ground salt
mixed Italian herbs
crushed red pepper
Directions
In a large bowl, combine water, yeast, sugar, and salt. Let sit five minutes. Stir in oil then flour a cup at a time with a heavy spoon. Continue adding flour a little at a time as needed, stirring until dough becomes too stiff to stir easily. Add a little more flour and begin kneading. The amount of flour is approximate–your mileage may vary! Continue adding flour and kneading until the dough is smooth and elastic. Let dough rise in a greased, covered bowl until doubled. (Usually, about an hour.) Uncover bowl; sprinkle in a little more flour and knead again before dividing in half.
Prepare a well-floured surface. Roll half the dough into a 9 x 12 rectangle. Cut into 3-inch sections (from the 12-inch side) to make 4 sections.
Note: The filling quantities are approximate, depending on how much you want to pile on. You can use more or less of any ingredient and make substitutions at will! Also, I didn't have any ricotta. I used lactic cheese the first time I made it. The second time, I used fromagina.
Using filling ingredients in the order listed, layer them on down the center of the strips. The first time I tried this, I had some trouble figuring out the twist technique with so much filling and such long strips. By the second time, I'd figured it out. Don't try to twist the entire strip from one end. Twist half the strip from one end then half the strip from the other end (and push it together in the middle). Transfer to greased baking sheets.
You will have eight rolls. I used two large pizza pans with curved edges, four per pan. The curved edges contain any extra olive oil that may drain off the rolls, preventing oven mess. I don't recommend using a flat baking sheet.
Drizzle or brush on olive oil. Sprinkle with salt, herbs, and crushed red pepper. Let rolls rise about 20-30 minutes. Bake at 375-degrees for approximately 20-25 minutes. Your time will vary depending on the size of your rolls, so keep an eye on 'em. Serve with nothing, marinara sauce, pizza sauce, Ranch dressing, or whatever you adore.
Categories: Appetizers & Snacks, Breads, Kid-Friendly, Main Dish, Pork, Rolls, Yeast Breads
Submitted by: suzanne-mcminn on August 22, 2011