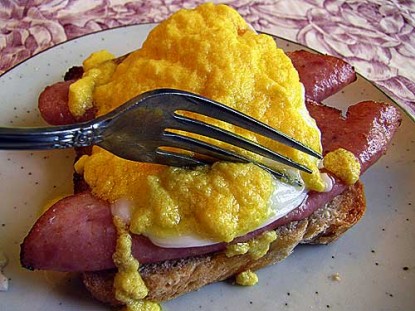 Difficulty: Easy
Ingredients
PER SERVING:
1 slice thick homemade bread or English muffin half
1 slice ham or Canadian bacon
1 poached egg
Hollandaise Sauce (or Mock Hollandaise Sauce)
paprika or parsley
Directions
Toast bread. (I use Grandmother Bread.) Fry or heat ham or Canadian bacon. Poach eggs. Prepare sauce. Assemble as follows:
Place the toasted bread on a plate. Top with, in this order, ham or Canadian bacon, poached egg, sauce. Sprinkle with paprika or parsley, if desired.
For the sauce:
Hollandaise Sauce
Mock Hollandaise Sauce
Categories: Breakfast, Egg Dishes
Submitted by: suzanne-mcminn on August 21, 2010