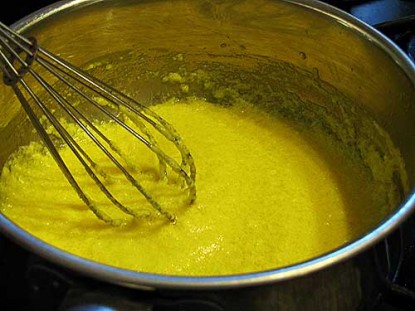 Difficulty: Easy
Servings: 3/4 cup
Prep Time:
a few minutes
Cook Time:
a few minutes
Ingredients
1/2 cup butter (or margarine)
3 egg yolks, beaten
1 tablespoon water
1 tablespoon lemon juice
Directions
Cut butter into pieces and bring to room temperature. In a double boiler, combine egg yolks, water, lemon juice, plus a dash of white pepper and a dash of salt (to taste). Add about one-third of the cut-up butter. Cook, stirring rapidly, till butter melts and sauce thickens.
Add remaining butter, a piece at a time, stirring constantly. Cook and stir until sauce thickens (1 to 2 minutes). Remove from heat. If sauce is too thick, add a little hot water.
Makes about 3/4 cup.
Categories: Sauces
Submitted by: suzanne-mcminn on August 21, 2010