The days and the weeks are flying by! Thanksgiving Day is less than two weeks away and I just realized it! Out-of-town family will be here in eleven days and I don't even have the turkey bought. Or the menu planned. But I do know I need to buy my turkey and start it thawing in the refrigerator (my preferred thawing method) by this coming Friday–it's a big bird.
We roast, grill, or rotisserie whole turkey all year long, not just at Thanksgiving, so I have the thawing and cooking times memorized for a frozen turkey.
BUT that wasn't always the case! When I started hosting Thanksgiving dinners, I never would have imagined a bird would take 5-6 days to thaw in the fridge. My first year, I was still defrosting that darn thing on Thanksgiving morning in a sink of cold water. Dinner was only a little late.
Until the last couple years (when I figured out how cheap a turkey really is per meal and make them at least once a month), I always had to search online for thawing and cooking times. I'm sure I'm not the only one that has/had difficulties, so I've made a little cheat sheet here on Farm Bell.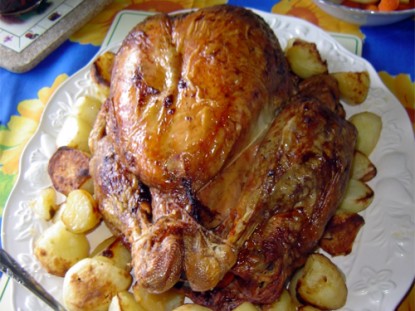 THAWING

Refrigerator–the safest (but not only) way to thaw a turkey.

Place the turkey in its original package, breast side up, in a baking pan with sides (to contain any juices that may leak out) on the lowest shelf in fridge (so not to cross-contaminate anything below it). A thawed turkey can remain in the refrigerator for 1 to 2 days. It can also be refrozen if thawed properly in the refrigerator.

Turkey Weight — Thawing Time

4-12 lb — 1-3 days
12-16 lb — 3-4 days
16-20 lb — 4-5 days
20-24 lb — 5-6 days

Cold Water–another alternative if you've waited too long to buy or pull your turkey out of the freezer. This is faster, but when I'm down to the last day, there are many more things I need to accomplish and I don't want to babysit that turkey in the sink or huge pan!

Wrap the turkey tightly with plastic wrap (to keep juices from leaking). Fully submerge the wrapped turkey in cold water in a clean sink or large pan. Change the water every 30 minutes to keep the water cold.

Cook the turkey immediately after it is thawed. Do not refreeze.

Turkey Weight — Thawing Time

4-12 lb — 2-6 hours
12-16 lb — 6-8 hours
16-20 lb — 8-10 hours
20-24 lb — 10-12 hours

Microwave–another alternative if your turkey is small enough or you have a HUGE microwave!

Check your owner's manual for the size turkey that will fit in your microwave oven, the minutes per pound and power level to use for thawing.

Remove all outside wrapping.

Place on a microwave-safe dish to catch any juices that may leak.

Cook your turkey immediately. Do not refreeze or refrigerate your turkey after thawing in the microwave oven.



COOKING

Whether grilling, roasting, or using the rotisserie, cooking times are about the same for a turkey. This is assuming the heat source is around 325°F. If you're planning to grill or rotisserie your turkey, though, you should keep the weight below 15 pounds so the inside is cooked before the outside is charred.

Also, whether it's stuffed or unstuffed will play a role in how long the cooking time is.

These are guidelines to cooking a turkey to help with your planning. Always check the turkey with a food thermometer to make sure the innermost part of the thigh and wing and the thickest part of the breast is at 165°F or more. Even turkeys with a "pop-up" timer should be checked with a thermometer.

Unstuffed

Turkey Weight — Cooking Time

8-12 lb — 2 3/4-3 hours
12-16 lb — 3-4 hours
16-20 lb — 4-4 1/2 hours
20-24 lb — 4 1/2-5 hours

Stuffed

Turkey Weight — Cooking Time

8-12 lb — 3-3 1/2 hours
12-16 lb — 3 1/2-4 hours
16-20 lb — 4-4 3/4 hours
20-24 lb — 4 3/4-5 1/4 hours

Also check the stuffing with a thermometer–it should be at 165°F, also.

Cooking from Frozen State

According to the USDA, it is safe to cook a turkey from the frozen state. So this is also an option! The cooking time will take at least 50 percent longer than recommended for a fully thawed turkey. Remember to remove the giblet packages during cooking after it's thawed enough!
Print the cheat sheet it out here: Turkey Thawing & Cooking Times
Happy safe turkey thawing and cooking!
Do you have a favorite method or recipe you use to cook your turkey? Brine recipes you use? Rubs? Submit the recipe to Farm Bell! There are only just a couple here now. Or submit a blog post explaining how you grill, roast, or rotisserie your turkey (or anyway you do it)!


Cindy blogs at Our Life Simplified.

Do you have a recipe post or kitchen-related story to share on the Farm Bell blog?

See Farm Bell Blog Submissions for information, the latest blog contributor giveaway, and to submit a post.
Want to subscribe to the Farm Bell blog? Go here.
What can you enter to win this month? Click here.