Suzanne has written about the ads on her site before a couple times. We don't have to click them for her to make her living (while giving us free ideas and the forum and Farm Bell), so I just let the ads run and most of the time I don't even know what's being advertised.
BUT! An ad running at the top of the page awhile ago caught my eye…from Hidden Valley. I love Hidden Valley! I love it so much I copied their ranch dressing to make my own low-sodium version. It's my go-to for dressing and dip. (I've updated the dip and dressing with fat-free versions, ones that John even approves of.)
Picture this: A loaf of french bread flying to the left of the screen, then some butter flying to the left, then a package of ranch dressing flying to the left and ending up with a picture of toasted Ranch Bread right in the middle.
I didn't even have to click the ad to figure it out. I actually felt a little stupid because I've never blended my ranch mix with butter then spread it on a loaf of french bread like garlic bread. Why not?! The kids love ranch, I love ranch, and sometimes Ranch Bread would go with so many more things than Garlic Bread.


But, I'll show you the steps to this easy recipe. I'm just a giving person like that, sharing all my duh! moments with you.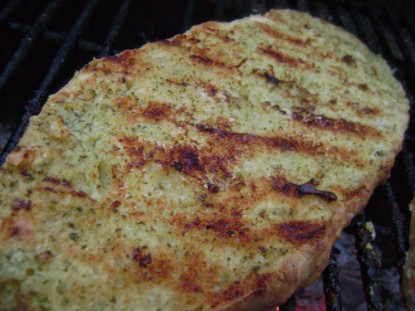 How to make Ranch Bread:
Make a loaf of French or Italian Bread–whatever you're in the mood for.


Mix together a stick of butter (or margarine or whatever you use!) with a couple tablespoons of Ranch Dressing Mix or a pack of store-bought ranch dressing mix.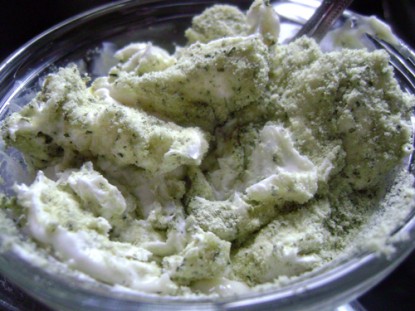 Cut your bread in half lengthwise and spread with the butter/ranch mixture.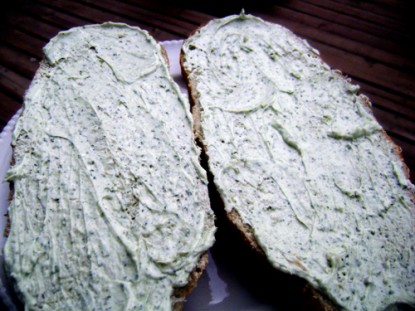 You could put it in the oven at this point like you normally would garlic bread (350F for 12-15 minutes)…or (because it's summer and the grill is fired up daily!) put it on the grill for some smoky flavor.
When the meat is almost done and the coals are still giving a "medium" heat, put the bread butter-side down on the grill.
Grill tip: Lay your hand palm down about 5 inches away from grate. If you can leave it there for 8-10 seconds, the temperature is "low" (250F-300F). 5-7 seconds will give you a "medium" heat (350F-400F) and if you have to pull it off very quickly (2-3 seconds), you've got a "hot" grill (450F or above).
The brats were for the kids.
Leave it grill for 5 minutes or so. You'll have some wonderful grill marks and all those seasonings mingled in with a smoky butter flavor.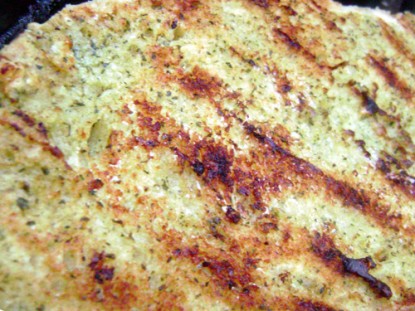 Thank You, Suzanne, for having your ads (while, you know, needing to make a living!)…they've become an inspiration. Even if I don't buy the product, but use my own homemade version instead!




Get the handy print page and save this to your recipe box here:
Ranch Bread.
Cindy blogs at Chippewa Creek ~ Our Life Simplified.
Do you have a recipe post or kitchen-related story to share on the Farm Bell blog?
See Farm Bell Blog Submissions for information, the latest blog contributor giveaway, and to submit a post.
Want to subscribe to the Farm Bell blog? Go here.
What can you enter to win this month? Click here.