I couldn't believe my eyes. My nine month old daughter spit the spoon out of her mouth and snatched up the dish towel draped across my lap. She vigorously wiped off her tongue. I offered another bite of grits. She accepted, but again repeated the wiping. It didn't take me long to realize it wasn't the food, but the texture of the food, to which she objected.
This behavior soon defined mealtimes and I despaired of ever getting enough food into her so she could grow into the healthy twenty-four year old she is today. She never did embrace grits (horror of horrors, that's enough to get you disinherited!) or even hamburgers (they have texture I tell ya!), but she's turned into a fine cook in her own right and I'm sharing one of her (momma-tweaked) recipes.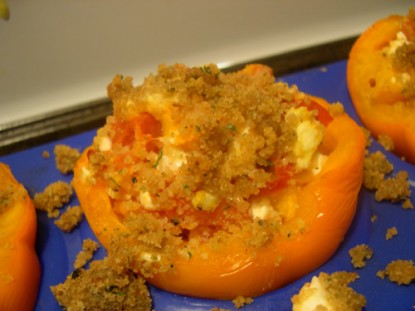 How to make Stuffed Tomatoes:
Tomatoes large enough to stuff, and 1 small one to provide enough "filling" (zucchini or squash can be substituted for tomatoes here!)

Per 4 medium tomatoes:

1/2 cup crumbled feta cheese
2 TB fresh basil and/or fresh oregano, snipped or chopped into tiny pieces
2 TB green onions or chives finely chopped
1/4 cup sliced olives
1/4 cup chopped roasted red peppers (I prefer jarred peppers here)
1 clove fresh garlic, minced
1/4 cup bread crumbs, Panko are preferred
salt & pepper to taste
2 TB olive oil
Wash tomatoes, cut off tops and scoop out insides, leaving as thick a wall as possible.
Chop the tomato innards (may need that extra tomato here if there isn't enough filling to refill the tomato shells), and combine with all the other ingredients. Fill tomato shells, and place in a baking dish. A muffin tin works great to hold up each individual tomato.
Bake 350° for 15 minutes. Serve hot.
Zucchini or squash are delicious substituted for tomatoes in this recipe!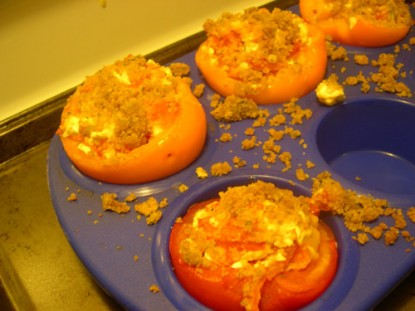 Get the handy print page and save this to your recipe box here:
Stuffed Tomatoes (or Zucchini or Squash).
Liz Pike blogs at Horseshoe Gardens.

Do you have a recipe post or kitchen-related story to share on the Farm Bell blog?
See Farm Bell Blog Submissions for information, the latest blog contributor giveaway, and to submit a post.

Want to subscribe to the Farm Bell blog? Go here.
Would you like a chance to win a Euro Cuisine yogurt maker?
Click here.