For those of you in the U.S., how are you celebrating Independence Day today? Parades? Cook-outs? Family fun? Fireworks? Us, too!
With our latest mandate from the doctor, we're cooking and dining low-fat style. I'm getting better with this change-of-life to low-fat cooking. It's difficult, but I'm finding inventive ways of changing those heavy-fat dishes I loved to make work for us now.
Instant pudding has always been a big staple in many of my dessert creations. There are many cooked pudding recipes around. Many! But I do love the instant–so fast, so … fast! I also know there are instant, fat-free pudding boxes in the store, but I'm sure you all know me well enough…if a mix can be bought, it can be made.
I found (and have changed it many ways to work for me for different concoctions) this Instant Pudding Mix awhile ago. The magic of it? Instant Clear Jel. I've made quite a bit of instant pudding…and some wonderful desserts. The most wonderful, creamy chocolate cheesecake mousse came from that recipe using heavy whipping cream instead of the milk…oh, memories…
Anyhow, back to fat-free…as I'm figuring out a way to get that mousse into a fat-free (or nearly fat-free) recipe 😉.
I've found an easier (and cheaper) way to make this pudding recipe fat-free. The original recipe called for 1/3 cup of dried milk with 2 cups of cold milk. I upped the dried milk to 1 cup and use 2 cups of cold water, making the fat-free milk right there instead of using store-bought milk, that extra 2/3 cup of dried milk is much cheaper than 2 cups of fat-free milk. With flavorings, that "dried milk" flavor isn't noticed at all. The original recipe called for salt, too, but I haven't been using it–it got skipped on a couple of my batches and nothing seemed different to me, so I just leave it out now.
Combine 1 cup dried milk, 1/3 cup instant clear jel, and 1/2 cup of sugar. A secret of using instant clear jel is to mix it with the dry ingredients first before adding liquid; it's less likely to clump. I use a mason jar from start to storing in the fridge.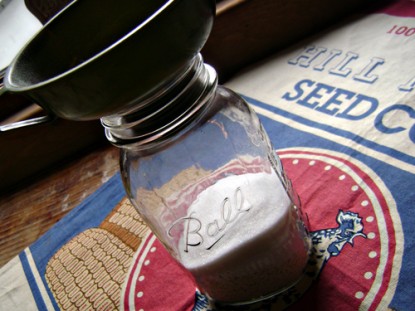 Add 2 cups cold water and 1 teaspoon vanilla.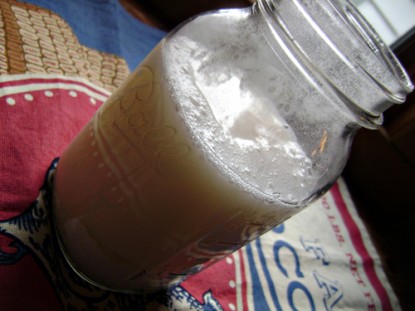 Mix together well. I just put the lid on the mason jar and shake it for a couple minutes. Sometimes there are some chunks (think of the gravy some of our mothers (or us!) have made) depending on I don't know what–sometimes they are there, sometimes not. It seems to dissolve as it sits, though. If you don't mind the little chunks, this is fine.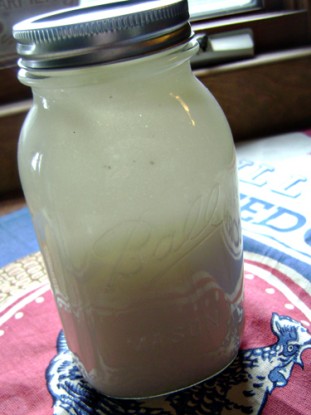 If you want it perfect, you could use a blender. Did you know a mason jar fits right onto the blender?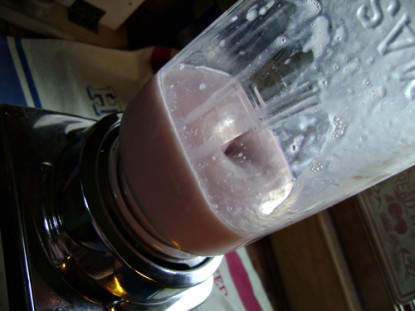 Or stick the immersion blender in there (my stick blender needs a wide-mouth jar)–2 seconds and it's chunk-free.


Pour into dishes.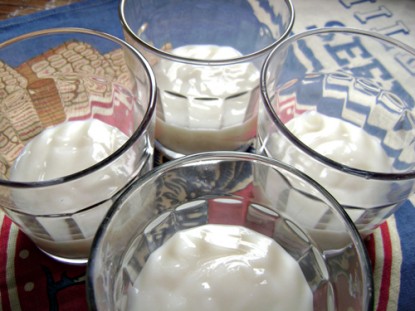 It's thick now, but if you want it colder or thicker, put it in the fridge. It'll continue to thicken as it sits.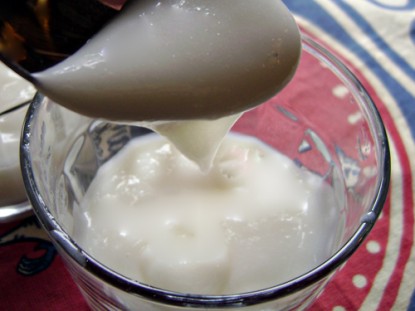 You could fill a 4 ounce jelly jar with pudding, stick in a popsicle stick and freeze them for a frozen pudding pop–the kids would love it!
Or get creative!!!
With this from-scratch instant pudding mix, you can do anything you want. Use juices or lemonade or kool-aid instead of water. I didn't add any sugar when I used the juices.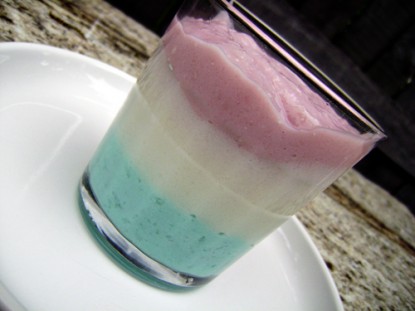 I used a cherry juice out of the store for the top, supposed-to-be red layer. The bottom layer is lemonade with a few drops of blue food color. Regular vanilla is in the middle.
Happy Independence Day everyone! Hope you have great plans with your family today!
For those of you not in the U.S., you can still make a great pudding 🙂


Get the handy print page and save this to your recipe box here:
Instant Vanilla Pudding Mix.
Cindy blogs at Chippewa Creek ~ Our Life Simplified.
Do you have a recipe post or kitchen-related story to share on the Farm Bell blog?
See Farm Bell Blog Submissions for information, the latest blog contributor giveaway, and to submit a post.
Want to subscribe to the Farm Bell blog? Go here.
Check out the latest blog contributor giveaway!