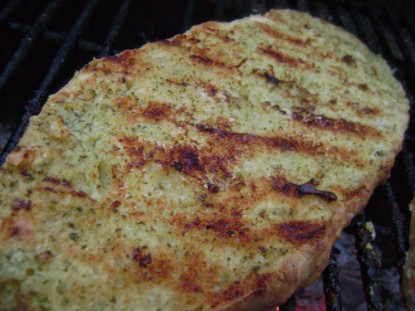 Difficulty: Easy
Servings: as many as you'd like
Prep Time:
2 min
Cook Time:
5-15 min, depending on the method
Ingredients
1 loaf French or Italian Bread
1 stick butter, margarine or whatever you use
2 Tbsp Ranch Dressing Mix or a pack of store-bought ranch dressing mix
Directions
Mix butter and Ranch Dressing Mix together.
Cut bread in half lengthwise and spread with the butter/ranch mixture.
Oven Method:
Place bread butter-side up on a cooking sheet. Bake in a 350F oven for 12-15 minutes.
Grill Method:
Place bread butter-side down on a "medium" (350F) grill for about 5 minutes or until browned to your liking.
Categories: Appetizers & Snacks, Breads, Grill-Outdoor Cooking, Other Breads, Yeast Breads
Submitted by: cindyp on July 30, 2011