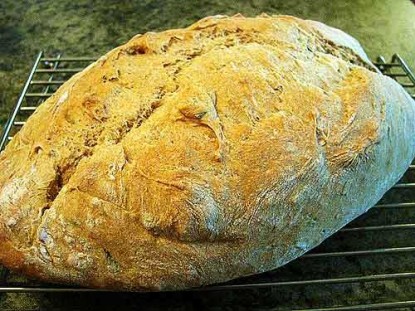 Difficulty: Easy
Servings: 1 loaf
Cook Time:
30-40 min
Ingredients
3 cups all-purpose flour
1 package yeast (rapid-rise recommended)
1 cup warm water
2 tablespoons olive oil
salt to taste (I use 3/4 teaspoon)
Directions
In a large bowl, combine olive oil with water, yeast and salt. Let sit for five minutes. Stir in flour until the dough is stiff enough to knead. (Add flour a little at a time. Three cups flour is approximate; exact amount may vary.) Knead dough until smooth and elastic–a few minutes.
Place dough in a greased bowl; cover. Let rise until doubled.
For Loaves: Form dough into a free-form style loaf and place on greased baking sheet. (Dust baking sheet with cornmeal first if desired.) Place immediately in oven (unpreheated!)–bread will rise as oven heats up. Set oven at 375-degrees. Bake for 30-40 minutes.
For Rolls: After first rise, divide dough into balls. Let rolls rise till doubled. Bake in 375-degree oven about 15 minutes. (Can also be used to make hoagie or sub rolls–shape as desired!)
Categories: Breads, Other Breads, Rolls, Yeast Breads
Submitted by: suzanne-mcminn on June 7, 2010