Mmmm…these were soooo tasty.
Now that I am comfortable canning things, I find I like to can random items. Limes, radishes, eggs, watermelon rinds, and artichokes have all somehow found their way into a briny bath.
FYI–I am totally ready for when the zombies come. I mean, eating wise.
I very much doubt I will be able to fend off the zombies with a jar of pickled eggs.
ManBeef: yes. Zombies: not intimidated.
Since I like growing these radishes myself, I am doubly-prepared.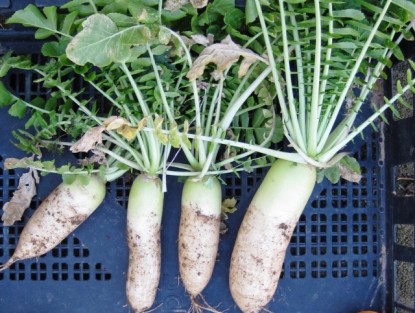 How to make Basic Pickling Brine:
6 cups water
3 cups apple cider vinegar
1/2 cup pickling salt
spices!
Boil ingredients for about 10 minutes. Can items as directed by USDA canning guide.

Since the radishes themselves are slightly spicy/peppery, I used Thai Dragon chilis in the brine. The apple cider vinegar was slightly sweet, and the peppers nice and spicy.
I am not sure what else I tossed in the brine; probably garlic, pepper, cumin, and bay leaves. As long as I use spices I like, whatever I am pickling turns out pretty tasty. It is hard to mess up. So be creative when making your brine!


Get the handy print page and save this to your recipe box here:
Basic Pickling Brine.
Larissa blogs at The Henway.

Do you have a recipe post or kitchen-related story to share on the Farm Bell blog? See Farm Bell Blog Submissions for information and to submit a post.

Want to subscribe to the Farm Bell blog? Go here.
Check out the latest blog contributor giveaway!