Before I married Harvey and moved to Missouri, I was a barista. Well that's throwing the word around loosely, but my family and I had an Espresso Business called Express Concessions. It was a mobile trailer that we took to fairs, horse shows, home and garden shows, dog shows, you name it, and served espresso drinks, shaved ice and fruit smoothies. We had a great reputation in Bakersfield, and a lot of people liked our drinks better than "Starbucks."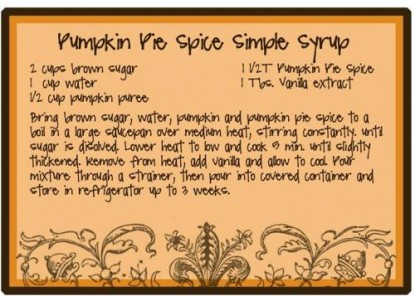 This is a knock off recipe of the seasonal favorite at Starbucks, but I think you will like it much better because you can make it at home and save the $5.00. I got to thinking about how I would make this if we served it, and came up with this recipe. Most flavored drinks start with simple syrup which is 2 parts sugar to 1 part water boiled and then cooled. You can add flavors to them to make your own flavored syrups, the shelf life is about three weeks stored in the refrigerator.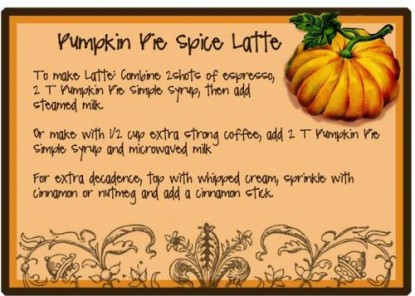 Not a coffee or espresso lover? Well how about a Pumpkin Pie Spice Chai Tea Latte? The recipe for that would be to use the Oregon Chai Tea concentrate according to the directions, add the 2 T Pumpkin Pie syrup and fill with milk. This can be served hot or over ice, for a frozen treat pour drink and ice into your blender and serve with whipped cream on top with a sprinkle of cinnamon.
Why don't you try these recipes and let me know how you like them?
Is this getting you into the Christmas mood? I hope so!
Get the handy print page and save this to your recipe box here:
Pumpkin Pie Spice Simple Syrup — Pumpkin Pie Spice Latte.

Ewenique blogs at Ewenique.

Interested in contributing a guest post to the Farm Bell blog? Read information here for Farm Bell blog submissions.

Want to subscribe to the Farm Bell blog? Go here.