For years the pressure canner was known to me as a death trap and an evil, dangerous thing people braved in their kitchens. I sooo remember my mother telling me how I needed to stay away from those things. With all of the horror stories that I'd heard, there was NO way that I was going to get anywhere near that lethal thing. I'm sure the stories that I was told were ones everyone has heard. "The thing exploded and hot (insert food type) was everywhere. It was on the ceiling, burned (insert person) all over. Hours were spent cleaning up that terrible mess. It was absolutely covering every part of the kitchen."
Well, I joined a canning group and people were constantly talking of the wonderful foods they were making and canning with pressure canners and pressure cookers. After a few years, the curiosity to achieve what they were was driving me crazy, so I researched out the absolutely safest pressure cooker and purchased it.
I learned one thing that first year of having it–how much dust builds up. I was still scared of it! I couldn't bring myself to dare try the thing. My mother told me I was crazy to have purchased it. With the stubborn nature that I have, that just pushed me over the edge to fire up that pressure canner and cook something. I remember the fear and anxiety I felt like it was yesterday. I told the email canning group what I was going to do and they "held my hand" and walked me carefully through the steps.
My stomach churned miserably with my nervousness and I kept a vigil on that thing–freaking out with every squeak or noise–and I'd run back to the computer to ask everyone if it was still okay. I paced between the kitchen and the computer the entire time. STRESS! I so did not want it to explode all over and burn me horrifically!
I felt such a relief flood over me when it was finally done. I found myself laughing with a sense of embarrassment. I couldn't believe that I had been so bloody scared and had stared at that beautiful device for a whole year!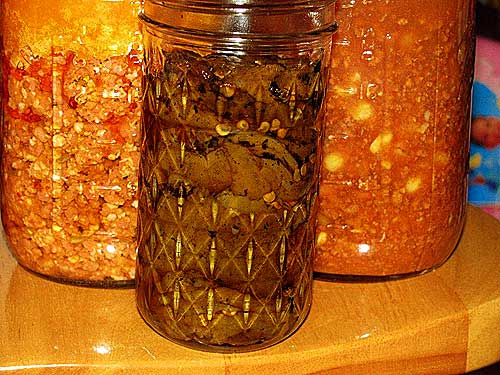 I now so appreciate it and have even bought a pressure canner! I can hardly imagine cooking beans in a regular pot for hours when I can pressure cook them. I now use it at least once a week.

I haven't bought refried beans in months now that I do them here at home (and, the kids like mine better). I have one special thing that I do–I have my teenagers watch me and help with me with the pressure cooker so they aren't scared. I talk about how long things take if I didn't use it for the item I'm doing.
Back L-R: Green chili with pork, ham, taco hamburger, taco soup. Front jars: Pork, hot peppers.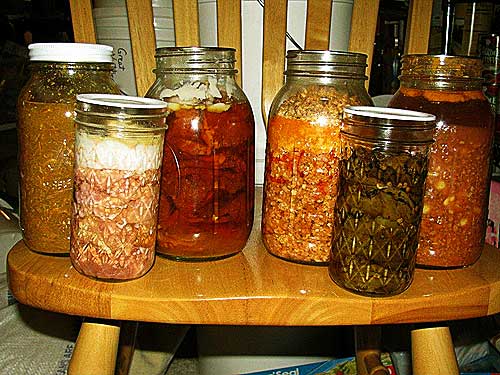 I may have been suckered with all of the folklore that surrounds pressure cookers and canners, but with the extra safety devices that are built into the systems, I can only say: Live it up and use that awesome shiny pot! Stop staring at it and get it out of the box. Using it is so worth conquering your fears!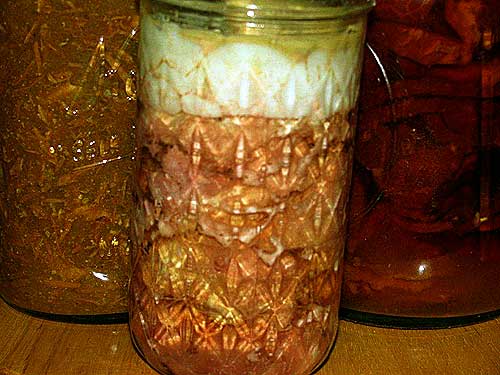 You can also find Moopsee at Yahoo's Canning2.

Interested in contributing a guest post to the Farm Bell blog? Read information here for Farm Bell blog submissions.

Want to subscribe to the Farm Bell blog? Go here.