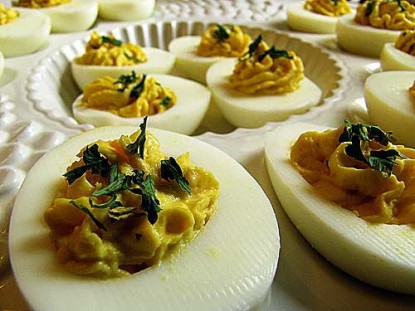 Difficulty: Easy
Servings: 12
Prep Time:
30 minutes
Cook Time:
time boiling eggs
Ingredients
6 hard-boiled eggs, sliced lengthwise with yolks separated
1/4 cup mayonnaise
1 teaspoon prepared mustard
1 teaspoon white vinegar
salt and pepper to taste
garnish
Directions
Set aside egg white halves. (You can go ahead and place them in their "permanent home" while they wait for the filling.) Mash yolks in a small bowl. Add mayonnaise, mustard, vinegar, salt and pepper; mix well. Pipe filling into egg halves. Sprinkle with garnish.
Classic deviled egg recipes include the mashed hard-boiled yolks, mayonnaise, mustard, vinegar, and a dash of salt and pepper. Deviled eggs are most frequently sprinkled with paprika for taste, color, and just because it looks pretty. Parsley, chives, and other herbs also make a great garnish.
The classic recipe can be varied easily to suit your tastes or a special occasion. You can replace the mayo with any flavor creamy-style salad dressing, sour cream, or even horseradish. You can add different herbs, or include shredded cheeses or meats, particularly seafood (crabmeat or minced shrimp). Finely diced veggies also make a fun variation on the standard deviled egg. If you like spicy, use finely diced hot peppers with a bit of chili powder and garnish with a sliced olive or cilantro. The possibilities are endless.
The prettiest deviled eggs are made with the filling piped into the egg white halves, but you can also spoon it in.
See Perfect Hard-Boiled Eggs and also a fun way to transport and serve deviled eggs.
Categories: Appetizers & Snacks, Eggs
Submitted by: suzanne-mcminn on June 21, 2010