I've always liked Brussels sprouts… to a degree. When we received a pound of them through a co-op, I wasn't sure what to do with them. I'd never cooked fresh Brussels sprouts before. I'd only ever had frozen ones that were boiled or microwaved. I knew that there had to be another way so I went through recipe websites and got ideas. This is what I came up with from looking at the other recipes.
Ingredients
1 pound Brussels sprouts cut in half longways
1 yellow onion chopped or diced (whatever your preference is)
6 cloves garlic minced or chopped (whatever your preference is)
2/3 stick of butter (you can probably use less but butter is soooo good!)
Saute the onions and garlic until translucent. Put Brussels sprouts flat side down and cover pan. Cook until bottoms of sprouts start getting browned. Flip the sprouts over and cook covered until they are tender. (Cook longer or shorter based on your preference.)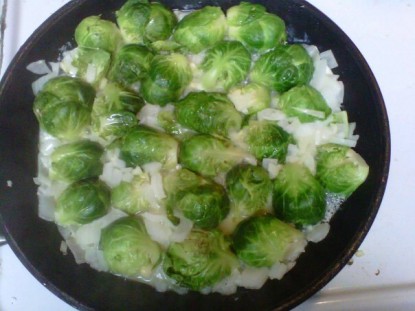 You'll want to eat them. Really!
Get the handy printable and save it to your recipe box:
Brussels Sprouts with Onions and Garlic

Do you have a recipe post or kitchen-related story to share on the Farm Bell blog?

See

Farm Bell Blog Submissions

for information, the latest blog contributor giveaway, and to submit a post.

Want to subscribe to the Farm Bell blog?

Go here

.