As I was cutting cucumbers for yet more pickles, my mind went to kitchen gadgets and salesmanship. I reflected on such things as Ginsu knives, juicers, fryers, flippers, egg cookers, microwave specialty cooking items, special frying pans, vegetable and fruit peelers, new tabs on the baking soda, perfect pasta drainers, special cloths for wiping up after cleaning, and even deals on the recipes themselves and joining an eternal recipe commitment. Oh, I almost forgot the special gadgets to hold/store the recipes. Of course this is only a small sample, but I really got to thinking.
Is there really such a thing, for example, as the perfect knife? I'm cutting cucumbers and cleaning up tomatoes. My knife works, didn't cost me too much, and I don't have to worry about some special care for it. Hmmmm. According to door-to-door salesmen, there are perfect knives, but they cost about ten times what my on-sale deal cost.
Would these knives really make my life feel better and cooking/baking more enjoyable?
Perhaps a few of my brain cells are wasting their time on this, but I seriously am thinking of this. I know through forums and lists lots of people that are frugal and cook and bake, and they enjoy it! Gadgets fill my commercials when I watch TV. Wow, how full my house would be if I actually purchased some of those items. How much of my time is filled with someone trying to sell me that perfect item for my kitchen? It's in magazines, on websites, television, at my door….
If only they'd come to my door and try to sell me the items we canners and cooks share with each other as truly needed products: pressure canners, steam juicers, big mixers (I have Kitchen Aid), attachments for the mixers, proper fruit pitters and strainers…. Now, that would be a different world all together. We'd be happy to see them up close and personal and even have them demonstrated in our kitchen–like they do with vacuums!!
I know there are many at CITR that have great instruments that they have found priceless in their kitchens. This is a great/excellent time to post them and those of us who do blogs could help pass on needed information! Wouldn't that be awesome? We have talked of pressure canner fears, antiques special to one, antique/priceless old recipes, steam juicers…. Time to ask away and see if there is something you'd love to see in more detail. We are all here to share. And most cooks and canners are mighty frugal. That's part of why we are cooks and canners!
As to TV gadgets, I haven't actually seen even one that tempted me yet. What my friends have shared with me as "needed" and "gotta haves" have made my life better–and that's friendship.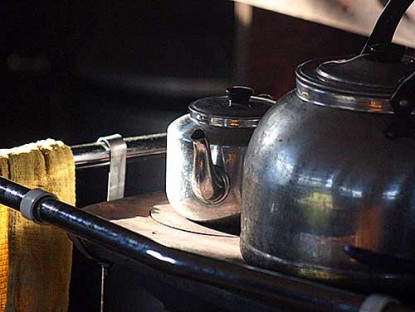 You can also find Moopsee at Yahoo's Canning2.

Interested in contributing a guest post to the Farm Bell blog? Read information here for Farm Bell blog submissions.

Want to subscribe to the Farm Bell blog? Go here.