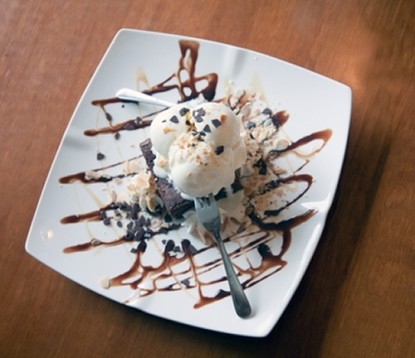 Difficulty: Easy
Servings: 8-10
Prep Time:
30 minutes (not including freezer time)
Cook Time:
n/a
Ingredients
24 sandwich type cookies (Oreos, etc. I like to use chocolate chip cookies with chocolate filling in the center)
4 tablespoons butter
1 gallon of ice cream (use your favorite flavor)
Ice cream sauce
Whipped cream
Other extras (sprinkles, extra cookie topping, etc.)
Directions
Make the Crust:
Melt the butter in a saucepan on top of the stove. Grind up the cookies in a food processor. Mix the cookies and butter in a bowl. Pat mixture into the bottom of a 9 x 13 slightly buttered pan. Put pan in the freezer for 20 minutes to set. At the same time, take out the gallon of ice cream and let it stay out on the counter for 20 minutes.
Make the Cake:
Take the pan out of the freezer and spread the ice cream evenly on top of the crust. Put the pan back in the freezer to freeze more (about an hour). Spread the ice cream sauce on top of the ice cream (use as much as you want). At this time, also put any additional toppings on that you want (like sprinkles or extra cookie topping if you had some left over). Hint: Sometimes I buy some extra cookies and make a little more of the crust so that I have some left to sprinkle on top of the ice cream and sauce.
Put cake pan back in the freezer and freeze another hour or so. Add whipped cream. The whipped cream can also be added when you serve the cake instead of at this point. Just give each piece a generous dab of whipped cream.
Categories: Cakes, Desserts, Entertaining, Frozen, Ice Creams, Kid-Friendly, Special Occasions
Submitted by: mrsaprons on November 14, 2012