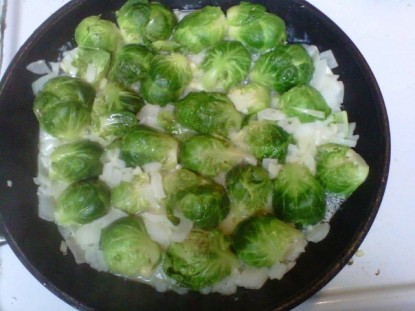 Difficulty: Easy
Servings: 4-6
Prep Time:
15 minutes
Cook Time:
15-20 minutes
Ingredients
1 pound fresh Brussels Sprouts
1 yellow onion
6 cloves garlic (more or less to taste)
2/3 stick of butter
Directions
Cut Brussels sprouts in half longways and set aside.
Chop onions and garlic as fine as you would like them. I chopped them as fine as possible.
Melt butter in large pan and add onions and garlic. Saute them until translucent.
Place Brussels sprouts flat side down in pan and cover with lid. Cook at medium/medium high until the bottoms start to brown. Flip them over and cook covered until they start to fall apart.
Categories: Side Dishes, Vegetables, Vegetarian
Submitted by: cassie on November 12, 2012