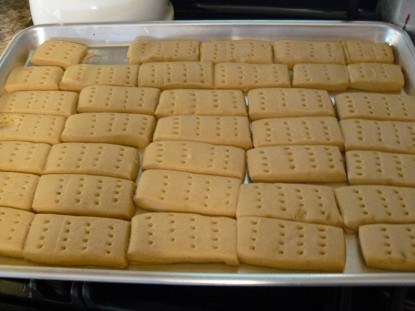 Difficulty: Easy
Servings: 4 dozen
Prep Time:
10 min.
Cook Time:
20 to 25 minutes
Ingredients
2 cups butter softened
1 cup packed brown sugar
4-1/2 cups flour
Directions
Preheat oven to 325°.
Cream butter and brown sugar. Add 3 to 3-3/4 cups flour. Mix well.
Sprinkle board with the remaining flour. Knead for 5 minutes, adding enough flour to make a soft dough.
Roll out 1/2 inch thick. Cut into 3×1 inch strips. Prick with fork and place on ungreased baking sheets.
Bake for 20 to 25 minutes.
Tip: Use an old, dark cookie sheet. New and shiny will not give them that very light brown color unless you increase the cooking time.
Categories: Cookies & Bars
Submitted by: glendad on June 20, 2011