It seems that a few weeks before my first garden harvest, I fall off the wagon. No, no, not THAT wagon. The health food wagon. With months of tomatoes and beans in my future, I find myself eating frozen pizza, chicken fried steak, and bacon burger dogs of all things. (haha) I think it's my bodies way of prepping itself for the looming rabbit diet. I love eating fresh from the garden, I really do, but lately I'm struggling to come up with new things that really make me excited to make dinner.
I'm browsing through the internet–CITR Farm Bell Recipes, 3fatchicks.com, Taste of Home….then I see it! Basil Shrimp Stuffed Zucchini. A "Red Lobster" copycat recipe? What? I do not ever remember seeing this on their menu. However, I am usually too buried in the garlic cheddar biscuits and coconut shrimp to really notice something presumably healthy. Regardless, I made a few minor changes and voila! It was pretty excellent. Also, it renewed my hope that I can get through my "practically vegetarian" season and enjoy it.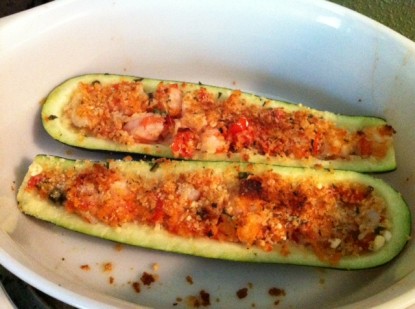 To make:
4 zucchini
2 Tbs butter
1 Tbsp minced onion (I added 1 Tbsp of minced garlic as well)
½ lb tomatoes, seeded and chopped (I chopped grape tomatoes)
1 lb small shrimp, peeled and deveined (cut in pieces if shrimp are larger)
1 Tbsp minced fresh basil (I doubled to 2 because I LOVE basil)
½ tsp salt
¼ tsp black pepper
1 cup bread crumbs (I used Panko)
2 Tbsp melted butter
Preheat the oven to 350 degrees. Cut the zucchini in half lengthwise and scoop out the seeds. Be sure to leave some by the ends to create a boat like shape. Saute onions in butter until clear. Add tomatoes and simmer until soft. In a mixing bowl combine the tomato and onion mixture with the shrimp, basil, salt, pepper, and ½ the bread crumbs. Fill the zucchini boats with the mixture. Place in greased baking dish. Sprinkle with the remaining bread crumbs and drizzle with the melted butter. Bake for 15 minutes or until shrimp turns pink. Yield: 6-8 servings.
NOTE: On my first batch, I thought the stuffing was AMAZING but the zucchini was slightly bland on its own. So on my second batch, I sprinkled lemon pepper to the zucchini before I put the stuffing on and I thought it made a huge difference. I also sprinkled on some Parmesan cheese right when I pulled these out of the oven. This was SO GOOD, I had to share.
Get the handy printable and save it to your recipe box:
Basil Shrimp Stuffed Zucchini

Do you have a recipe post or kitchen-related story to share on the Farm Bell blog?

See

Farm Bell Blog Submissions

for information, the latest blog contributor giveaway, and to submit a post.

Want to subscribe to the Farm Bell blog?

Go here

.