Pickled eggs…yum.
A delicious treat, and when the menfolk are having a playdate poker game, it gives the garage the "bar food" ambiance their friends find so impressive.
FYI! If you are going to feed your menfolk copious amounts of spicy pickled eggs, make sure they are immediately leaving the house for camping or will be sleeping outside the following evening.
I like to use the bantam (miniature) chicken eggs for pickled eggs. They are bite-sized and an excellent use of the little eggs I don't sell to customers.
You can use any brine recipe you want, but I like mine a little spicy.
How to make Spicy Bite-Sized Pickled Eggs:
18 bantam eggs, boiled and peeled
1 1/2 cups vinegar (apple cider vinegar is good, too)
1 1/2 cups water
1 tablespoon cumin
6 cloves of garlic, chopped
1 teaspoon dried habanero flakes
1 tablespoon peppercorns
bay leaves
Over medium heat, mix together the vinegar, water, and spices. Bring to a boil and mix in the garlic and bay leaf. Remove from heat.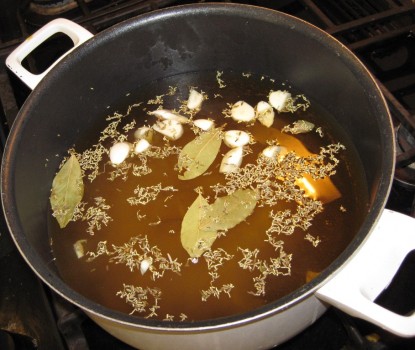 Transfer boiled, peeled eggs to sterile jar. Fill the containers with the hot vinegar mixture; seal.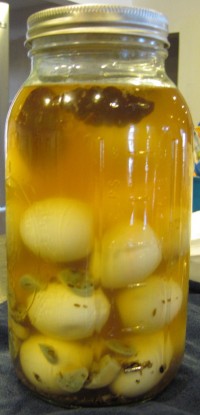 Refrigerate at least a week before serving.
Get the handy print page and save this to your recipe box here:
Spicy Bite-Sized Pickled Eggs.

Larissa blogs at The Henway.

Do you have a recipe post or kitchen-related story to share on the Farm Bell blog? See Farm Bell Blog Submissions for information and to submit a post.

Want to subscribe to the Farm Bell blog? Go here.