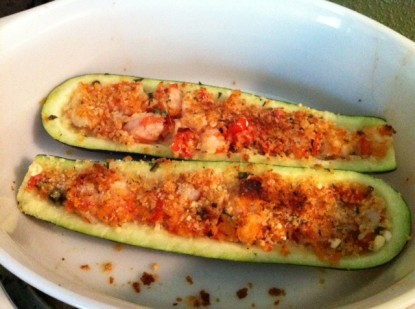 Difficulty: Easy
Servings: 6-8
Prep Time:
10 minutes
Cook Time:
15-20 min
Ingredients
4 zucchini
2 Tbsp butter
1 Tbsp minced onion (I added 1 Tbsp of minced garlic as well)
½ lb tomatoes, seeded and chopped (I chopped grape tomatoes)
1 lb small shrimp, peeled and deveined (cut in pieces if shrimp are larger)
1 Tbsp minced fresh basil (I doubled to 2 because I LOVE basil)
½ tsp salt
¼ tsp black pepper
1 cup bread crumbs (I used Panko)
2 Tbsp melted butter
Directions
Preheat the oven to 350 degrees. Cut the zucchini in half lengthwise and scoop out the seeds. Be sure to leave some by the ends to create a boat-like shape. Saute onions in butter until clear. Add tomatoes and simmer until soft. In a mixing bowl combine the tomato and onion mixture with the shrimp, basil, salt, pepper, and ½ the bread crumbs. Fill the zucchini boats with the mixture. Place in greased baking dish. Sprinkle with the remaining bread crumbs and drizzle with the melted butter. Bake for 15 minutes or until shrimp turns pink.
NOTE: On my first batch, I thought the stuffing was AMAZING but the zucchini was slightly bland on its own. So on my second batch, I sprinkled lemon pepper to the zucchini before I put the stuffing on and I thought it made a huge difference. I also sprinkled on some Parmesan cheese right when I pulled these out of the oven.
Categories: Main Dish, Other Main Dish, Seafood
Submitted by: cacieleanne on July 24, 2012